HellDivers is a hardcore top-down twin-stick shooter from the developer studio, Arrowhead Game Studios & also from publisher Sony Computer Entertainment. It is a first-party game available on the PlayStation 3, PlayStation 4, and PlayStation Vita upon release and also later on Microsoft Windows. The game features a 4-person co-op multiplayer.
Why is HellDivers such a fan favorite?
The game is a gut-punching hardcore top-down shooter. It features exciting 2-person to 4-person co-op online or local multiplayer gameplay. The toughness of the game makes for very rewarding gameplay. It is one of the best couch co-op games. The missions are mainly co-op with adrenaline-pumping difficulties. Therefore, cooperation with teammates is vital in the game's missions. Players rely on each other for the successful completion of each mission. The game features cross-play on all Sony PlayStation systems while it is not available between PC & PlayStation. All these & much more make HellDivers such a fan favorite.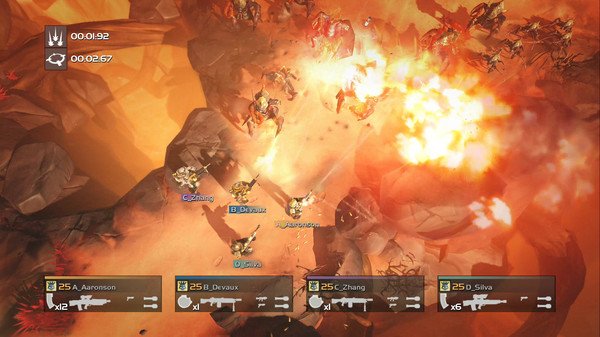 Critical Reception of HellDivers
The game's reception upon release was mainly positive with some critical acclaim. IGN gave the game an excellent 9/10 rating & the game also received a positive 83% on Metacritic. The game was a massive hit with players, they loved the co-op nature & thrilling difficulty of the game. It is a game best enjoyed with friends. The gameplay mechanics and the co-op multiplayer integration in the missions are its standout features.
Is there going to be a HellDivers 2?
Many fans of HellDivers are wondering if a sequel for the beloved game is coming. The excitement and enthusiasm for the co-op shooter are palpable. A sequel for the game is highly anticipated. Currently, the only knowledge and information available to fans is the tease from the official Twitter of the game. Here is a response from the official Twitter account of HellDivers to a question about a sequel :
😉

— Arrowhead Game Studios (@ArrowheadGS) March 24, 2021
The release date for HellDivers 2 on PS4, PS5, Xbox One, Xbox Series X/S & Microsoft Windows
There is currently no official timeline or announcement of an official release date for the sequel. The expectation from fans is that the sequel would come for both last-gen & next-gen. Therefore, a sequel would come to PS4, PS5, & also on Windows PC.