Haikyuu!! fans reunite! The times is almost upon us. With the delays induced in Season 4 due to ongoing COVID-19 pandemic situation, the new episode airs October 2.
We have already got the final trailer for the new episodes for the Haikyuu!! Season 4 part 2. The trailer shows some glimpses from the match between Karasuno and Inarizaki High School. Check out the trailer below if you haven't already –
https://youtu.be/eAZcn_hoE_s
The last episode of Haikyuu!! Season 4 saw the Karasuno's High School Volleyball team strategizing for their next match. After winning their first match at the Inter-High National Volleyball Championship against Tsubakihara, Karasuno marched head to their second match which apparently is not going to be as easy as it was with Tsubakihara.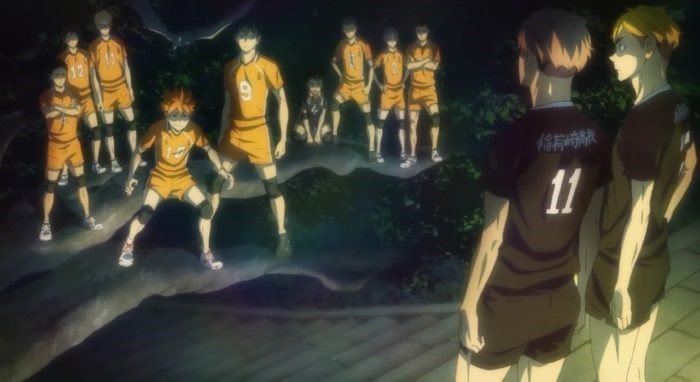 Inarizaka High, from the Hyogo prefecture is considered to be one of the top seeds in the championship. The team overall has one of the most balanced squad with a strong spiker and a block. But most importantly, the most lethal weapon in Inarizaka's arsenal is the combination of Miya brothers – Atsumu Miya and Osamu Miya. These twin brothers instill a whole different kind of fear in their opponents. Inarizaka's middle blocker, Rintaro Suna is a little short for the position he plays but due to his instincts and game sense he is one exceptional blocker and spiker. Atsumu, is considered to be the best setter among the all high school volleyball teams. He was also selected alongside Kageyama in the Japan Under-19 training camp.
Episode 13 gave us the look at the start of the match. While the road ahead for the crows may not be easy, but the tunnel vision of Hinata when he jumped higher than usual gave a silent signal of a monster unleashed. The Miya brothers in the end took notice and the episode ends with Atsumu stating that Inarizaka will have to watch out for the "squirt".
The new episode airs on 2nd October and while there's not much of spoilers available for the episode we do know that this match will mark yet another milestone in our young hero's Volleyball career.
What do you think about the new episode? Are you excited to see it? Let us know down in the comment section below!