Latest updates have been added to the bottom of the post
---
If you are wondering why you have not received your Stimulus payments in the Green Dot Bank yet, fret not, as you are not alone. Many other consumers are also facing the similar issue.
The issue is widespread & has affected a large number of users. Many of them have taken the route of Twitter & forums to confirm the ongoing problems. Have a look at a few complaints which confirms the same.
Well, Green Dot Bank has released an official statement regarding the ongoing issue which reads the following : Traffic to our apps and websites is high as millions of Americans are receiving their stimulus deposits. As a result, there may be a delay logging into your account. We are noticing less slowness on GreenDot.com and suggest cardholders try to log in there first. An alternative way to see if a stimulus payment has been deposited is to use our TEXT FOR BALANCE feature. Registered account holders simply have to text "Bal" and the last 4 digits of their debit card number to 43411 to receive their current balance. Thanks for your patience.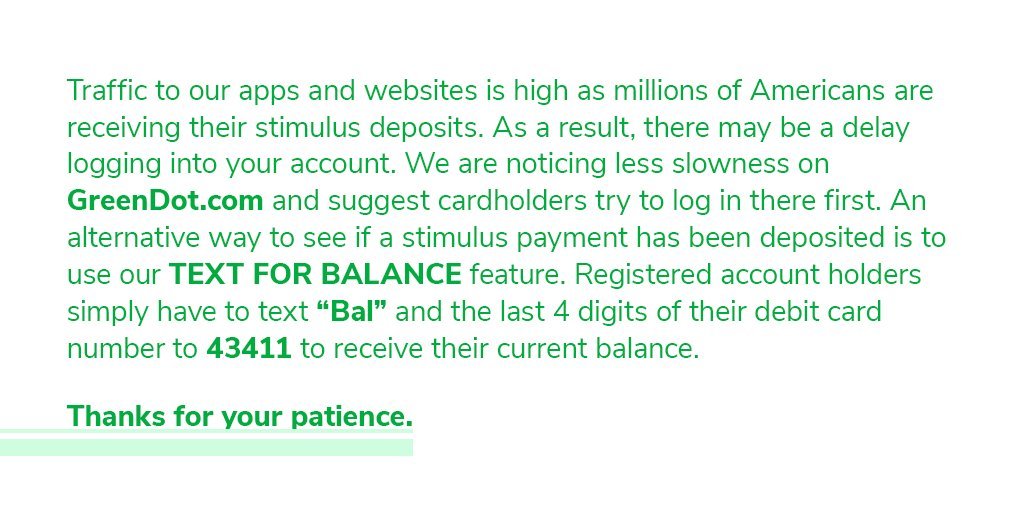 Rest assured, we're keeping a close eye on all related developments, and will update the story with relevant info as and when we come across any. So in case, you're encountering the issues discussed here, stay tuned for updates
---
Update 1 – From Turbotax
While answering to a query of concerned user Kelly Prewitt, Turbotax has confirmed the following: