The tech world is always buzzing, mostly for good reasons. However, a customer can be hard to please, especially when the services provided have been hampering them from relishing what they wish for. We find Google bossing the tech scenario more often than not. But today, Google seems to have been caught in the firing line. A few days ago Google announced that the end of the Google Play Music era was here (not that it has many fans). The move will facilitate the growth of Youtube Music. The celebrated launch of Youtube's music streaming platform in 2015 has been a case of too much bark and too little bite.
So is Google deliberately promoting something that flopped? Doesn't sound like Google, does it? We came across a Reddit user known by the handle u/Appleanche who raised his concern on the popular platform. The problem seems to emerge when Youtube Music is connected to devices over Bluetooth. It tends to miss out on displaying any information about the track. It isn't a big mystery and the response to the Reddit post speaks for itself. People DO NOT like Youtube Music. In fact, in the below screenshot you can spot a few Spotify fans, too.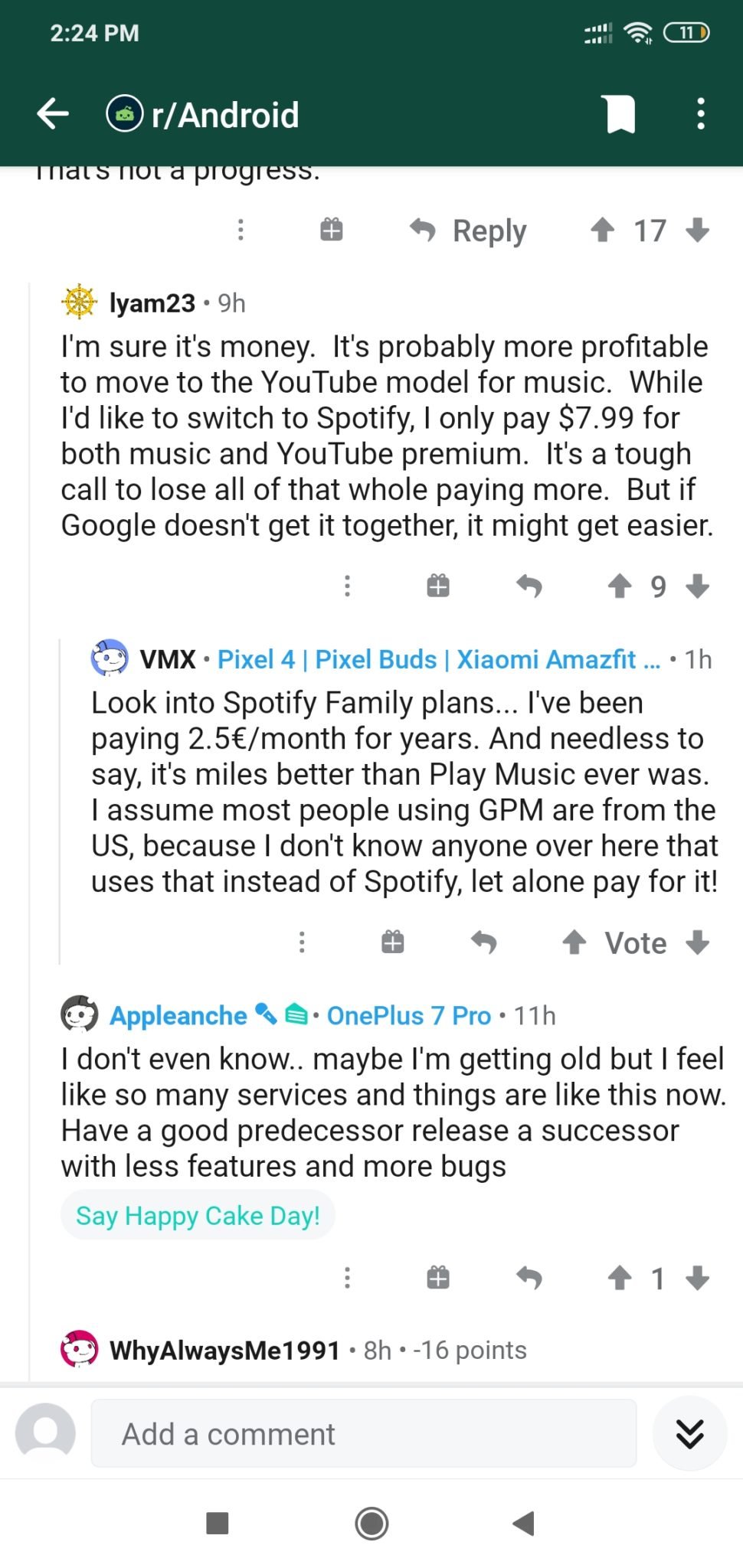 Google has been vocal about these announcements and wants the users to shift their music library data before time. Users will face the threat of cancellation of their subscription if, at the time of Google Play Music shutdown in your country, they fail to transfer their data.  Having said that, Google is trying to do its level best to bring quality changes to Youtube Music with updates scheduled once they get rid of Google Play Music. There are speculations of facilitating intelligent playlist creation and using the opportunity to integrate it with Android TV and Google Assistant. In reply to the above mentioned Reddit handle post though was an interesting reply. The user u/tripacs says that a similar issue of his was resolved upon installing the Android 11 beta on his Pixel 4.  Android 11 is being touted to better the Android user's experience by a great margin and this does make us look forward to it even more.