We have come a pretty long way since our evolution on this planet. Technology continues to grow even faster with speeds that have become quantum leaps. Apart from the usual gadgets, accessories, and appliances, we have been witnessing new tech innovations for a long time now. Smartwatches, Smart speakers, and many other gadgets have been the star of the show. Wait, there's this another amazing player that has been stealing the spotlight. Yes, we are talking about the wireless earbuds. Google also manufactures some of the best wireless earbuds. The Pixel Buds is one of the best among all of them.
Google Pixel buds 2 launch is near:
Apple was the first in the line to come up with its Airpods some time back. They became an instant hit and are some of the best wireless earbuds out there. Later, other OEMs like Samsung, Google, and many others came up with their own earbuds. Even Xiaomi has its own pair of earbuds and it also launched a new pair of earbuds recently. The Galaxy Buds and Pixel Buds are some of the best wireless earbuds we have seen so far. However, some people still prefer Apple Airpods over them despite the fact that they are more expensive.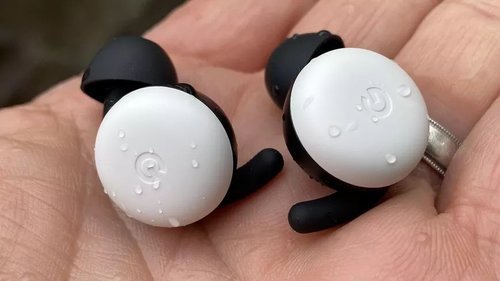 While Apple has already planned the launch of its new pair of earbuds very soon, Google and other OEMs are not just sitting idle. Well, we have hearing rumors about the upcoming Pixel Buds 2. The enhanced Pixel Buds which came some time ago went on head to head with the Apple Airpods Pro and the results are fantastic. The Pixel Buds are way better than the Airpods as some people say. These pair of Pixel buds are getting a lot of love from people. The sound quality is crisp clear and they feel good on the ears.
While the enhanced Pixel Buds easily beat the Apple Airpods Pro, it will be really interesting to see what the Pixel Buds 2 are going to bring. While the whole internet has been speculating about the launch of these amazing pairs of earbuds, here we have some great news with us. One of the latest leaks shows that the Pixel Buds have already received the IMDA certification. In case you don't know, IMDA certification ensures quality standards for telecommunication devices. These new leaks come from a famous tipster and these leaks show the Pixel Buds 2 and its charging case receiving the IMDA certification.
Well, now this makes it pretty certain that the launch of the Pixel Buds 2 is imminent. These new pairs of Pixel Buds will be soon making it to the markets. Now, that's some great news. The Pixel Buds have already proved to be great and it's pretty certain that these new ones are going to be even better. Let's see what all these new pair of Pixel Buds have got to bring with them. Only time will answer this after it gets launched. So people, keep waiting until then
Stay tuned for further updates on the upcoming Pixel Buds 2 and more such related content. Also, share this article with all those people who have been waiting for these amazing pair of Pixel Buds.