For the past few months, video calling apps have been seeing an immense surge in traffic and usage. This is because of the deadly Coronavirus pandemic and the ongoing lockdown. While the crisis continues to spread fiercely than ever, users continue to work from home. Video calling apps and Zoom and Google Meet are seeing their traffic skyrocketing. Owing to this, we are also seeing these apps getting imminent updates to improve every aspect of video calling. Google Meet continues to get improved features over time to enhance the quality of calls.
Users have known the importance and need for Video calling apps. It also seems that many OEMs will promote working from home even after the crisis ends. This evokes the need for better functionality and new features in Video calling apps.
Google Meet gets AI noise cancellation features;
Earlier, Google announced the noise cancellation feature for Google Meet back in April. Well, we have seen a lot of noise-cancelling features earlier in smartphones and other gadgets. So, this feature intelligently removes all the background noises during a video call. AI does it all. It removes all the noises and disturbances by analyzing it. It is one of the most useful features during an online meeting or videoconference. You won't have to worry about background noises that create disturbances and distract people during the meeting.
The great news is this AI noise cancellation feature is now rolling out. The new feature has just begun to roll out and is currently available only to a small fraction of users. According to Google, it might take around a month for the feature to roll out completely for all the users globally. Users have been waiting for this feature ever since Google announced it back in April. Noise cancellation is one of the most sought after features when it comes to video calls. At least for all the official online meetings and work-related calls. Google is now finally rolling out the feature and it seems to work great.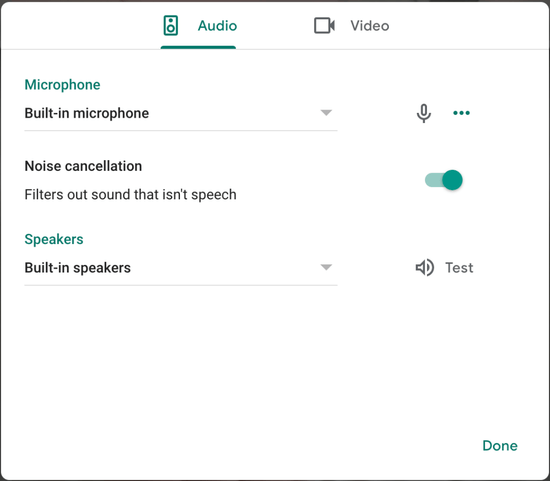 AI uses speech recognition to recognize the voice of the user and then separates all those unnecessary sounds that are not a part of the discussion. This new Google Meet feature is indeed awesome and works charms during calls and meetings. It works completely fine with all those usual disturbances, including dogs, barking, children's shouting, doors slamming, and whatnot. You don't have to worry anymore about any of these disturbances during a meeting. That's great, isn't it? However, Zoom is still the main competitor in the game. The number of zoom users today have just skyrocketed straight out of nowhere. While Google Meet usage is not as profound as Zoom, it continues to grow each day.
How to use the Google Meet AI noise cancellation feature?
Earlier, Google said that by the end of April, Google Meet has 100 million daily users. The numbers have now increased even further. So, the next thing is how do you use it? Well, it's quite easy than you think. The product management manager of G Suite, Serge Lachapelle himself, came forward and demonstrated how to use the new AI noise cancellation feature. It is quite simple and easy. You will definitely love using it during your calls and important meetings for sure. You can check out the video below and see how to use it as easily as he does.
Well, so now that you know how to use the feature, you won't have to worry about any disturbances during your calls and meetings from now on. Isn't it? Well then, what are you waiting for? Go ahead and try out this cool new feature. Happy calling, Peeps!!
Stay tuned for further updates on Google Meet's AI noise cancellation feature and more such related content. Also, share this article with all those people working from home.