Turns out too much advanced technology is not all beds of roses, or at least that is one of the many suggestions from Glitch Busters, where glitches populate the already well-populated advanced AI systems with the potential of destroying everything that is linked to the internet. In this article, we will discuss Glitch Busters: Stuck on You PC, PS4, and Nintendo Switch Release Date, and every other relevant info about the game you should know before its full release, including the game features, characters, platforms, and gameplay. Let's start with gameplay and features. Glitch Buster is a shooter and action game developed and published by Toylogic and Skybound Games in that order. In the game, everything is going on well on the internet till a virus outbreak occurs that leads to glitches in the advanced AI systems and programs.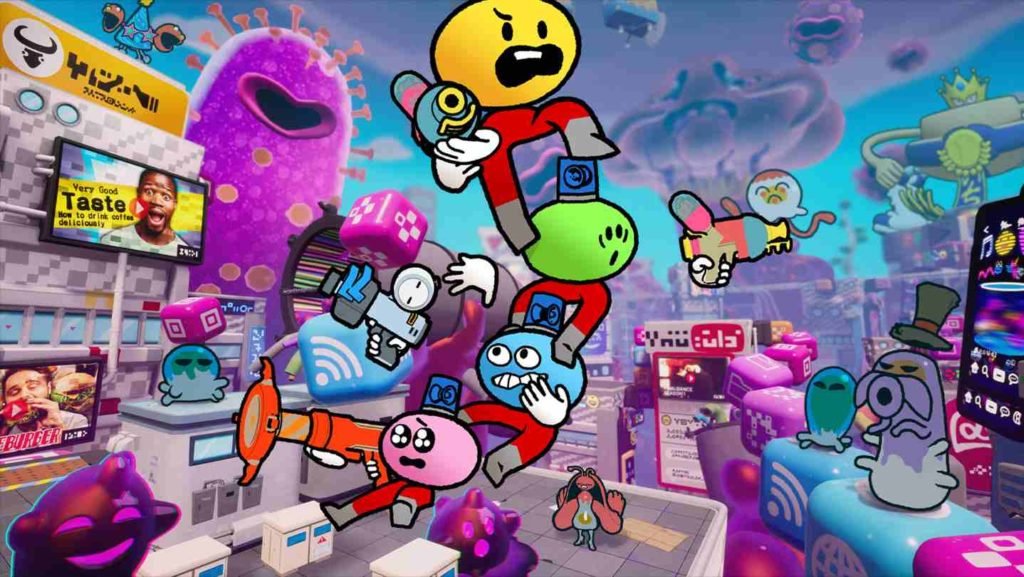 Players assume the role of glitch busters, a gang of emoji-looking characters that attack and try to subdue the viruses. Four players are assigned to each virus and have to undergo gunfights and puzzles in different stages with their weapons of choice. Talking of weapons, each player can only be equipped with a gun at a time and the weapons have unlimited ammo, which is why we suggest you go for the rocket launcher–imagine a rocket launcher with unlimited ammo. Did we tell you characters have magnets for legs? Sounds funny but it helps a lot, from helping players get on top of each other to create a shooting tower to help them stretch and reach corners. You can set out alone and be aided by computer-generated teammates, or go multiplayer with friends. So, when are we to expect a release date for PC, PS4, and Switch?
Glitch Busters: Stuck on You PC, PS4 and Nintendo Switch Release Date
We have both Good news as well as Bad news, and we are starting with the bad news. The official release date for Glitch Busters for PC, PS4, and Nintendo Switch has not been announced yet, but there is good news as we said. We are sure the game will be released for PS4, Nintendo Switch, and PC via Steam as evident in the trailer released by publishers at the IGN Summer of Gaming 2022. Running after viruses with customizable weapons with unlimited ammo in a cartoony exotic setting sure sounds fun and you will get to experience it soon enough.  
While we await the announcement of the launch date, stay in touch with Digistatement as we will be the first to inform you when the game will be releasing. Also, kindly share this with friends and everyone in your gaming community.