Almost every single PC user will be aware of the name Intel. From stickers on the monitors to the ones next to the mouse on laptops, Intel is everywhere across the globe. Intel is a multinational corporation founded and headquartered in America. It develops, manufactures, and produces processors and micro-processors for computers and laptops. Intel primarily produces computer products for Apple, HP, Dell, Lenovo, and many more. The Intel chipsets got popular with computer developments. But fan fact, the company's chipsets were invented way back in 1971!
Auros is a popular YouTube channel where Gigabyte confirms one of the most important details of the year, probably decade! And therefore, here we are to convey the details and related information.
Intel Z490 Motherboard to support 11th Gen Rocket Lake-S-
Rocket Lake-S is a processor series from Intel which is yet to be released. Users have been hyped about the latest Intel 10th Gen (Core 19). This was revealed a while ago, and the official announcement was streamed live. To be precise, the live event took place on the mentioned YouTube channel. In the live stream, the talk about Intel Z490 Motherboard popped-up, which is the motherboard and main support system for Intel 10th Gen. But that is not all!
The manufacturer representative present at the online event conducted an interactive session where users were allowed to drop questions regarding the topic. One of them was a viewer asking if the Z490 motherboard will also support the successor of the 10th Gen, "11th Gen Core Rocket Lake". Rather hesitantly, the host confirmed that Intel Z490 Motherboard will support 11th Gen Rocket Lake-S. Also, the answer was brief and can be considered official.
Although the host did reveal this information, he was quite unsure if this information was meant to be let out or made public. But it is what it is, as the briefly given answer is now the official status. Intel's Z490 motherboard will support the upcoming 11th Gen Rocket Lake-S.
Intel Rocket Lake-S-
The year 2020 has been unveiling all that one could never think of. The tech world has seen massive changes. Intel Rocket Lake-S series of processors will be launching later in this year 2020.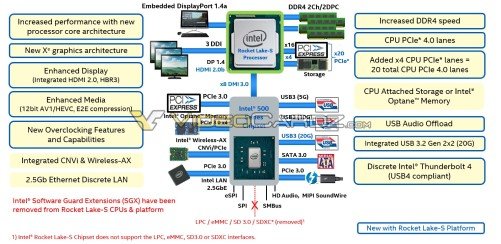 As you can see in the image, Intel Rocket Lake-S will bring tons of new features to power the latest computers and laptops. Rocket Lake-S will support the fourth generation of PCle. Other details include micro-architecture and new core design. Official details also tease wider DMI 3.0 x8, and support for Xe graphics.
Rest assured, we post related content and updates every day, so stay tuned. Also, share this article with all those who are waiting for Intel Rocket Lake-S!
---
---
SEE ALSO;