Intel, the all-time reigning brand in the world of microprocessors and chipsets. Almost 7 out of every PC or laptop that we come across houses an Intel chipset. That's true. However, Intel has been facing stiff competition from AMD starting from this year itself. Over time, Intel has been crafting successive generation of powerful chipsets for PCs and laptops. While Intel introduced the Ice lake and Comet lake processors early this year, AMD brought home the latest Ryzen 4000 series mobile chipsets. Since then, there has been a war going on between these two brands.
We have been hearing about the latest Tiger Lake chipsets to come as an answer to AMD's powerful mobile chipsets. Well, it seems like Intel has also got something else to save its throne from AMD. That's right; Intel is finally going to bring the 10th gen Intel Comet Lake-S series powerful chipsets. Will they be able to beat the latest Ryzen processors?
Intel 10th gen Comet Lake-S series Specs:
Earlier, we saw the 10th gen Ice lake and comet Lake U series processors and many others as well. However, Ryzen 4000 processors easily shattered their scores and made new records. Intel is on to do something even beyond and beat those scores. This marks the arrival of the Come lake-S series processors based on 14 nm architecture. Well, this line of chipsets comes with optimum specs and configuration that should be able to go head to head with AMD's latest Ryzen mobile chipsets. Intel is all set to launch these chipsets on April 30. However, we have all the specs leaks beforehand the official release.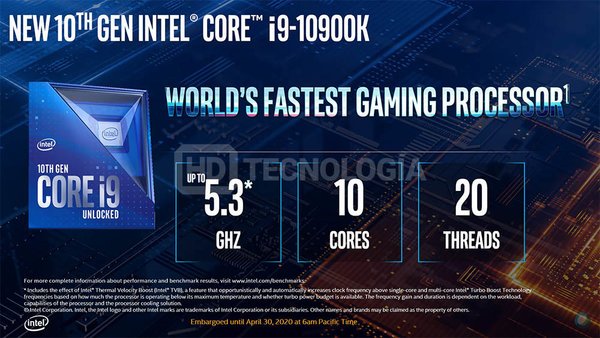 Intel is relying on high frequencies this time as they say why it matters a lot in a chipset. They have been emphasizing on the higher frequencies for optimum performance. They also explained a few points revealing why the higher frequencies are beneficial. Apart from the fact that many chipsets these days have high frequencies, the main thing is many games and apps these days require higher frequencies to run smoothly. Furthermore, many games require better single-core performance which evokes the need for high frequencies. It also helps in achieving high framerates coming with very low latency at the same time. Well, apart from that we also get to see some more improvements.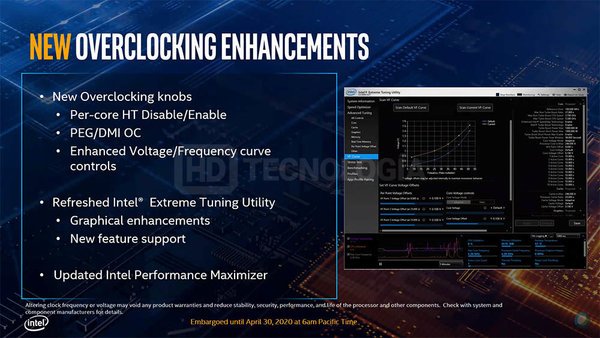 Easy Overclocking utilities:
With these Comet Lake-S series chipsets, Intel has come up with a better Extreme Tuning Utility that will allow easy overclocking for performance bumps. It will let us enable or disable Hyperthreading per core. It further also allows controlling voltage/frequency changes in an enhanced manner. It also comes with the option for PEG/DMI OC.
Better Thermals:
Thermals always have an effect on the performance and power efficiency of the chipsets. Intel has come up with a new way to have better thermals in these S series chipsets. These chipsets will have thinner dies and thicker IHS which should help in achieving better thermal performance.
New Graphics:
Earlier Intel came up with the Iris Plus graphics and UHD 620 this year with the Ice Lake and Comet Lake CPUs. With the S series chipsets, we will see the Intel UHD Graphics 630 with all the Core K and non-K series except the F-models. The Celeron chipsets will have the UHD Graphics 610.
Faster Memory:
To provide faster speeds, memory capabilities play an important role. These chipsets will come with better and faster memories than before. Talking about all the Intel Core chipsets, they will come with Two Channels DDR4-2933 memory lanes and the Celeron chipsets will come with Two Channels DDR4-2666 memory lanes.
PCIe 3.0 Lanes support:
Intel has also brought the support for PCIe 3.0 memory interface. All the S series chipsets come with support for 40 platform lanes.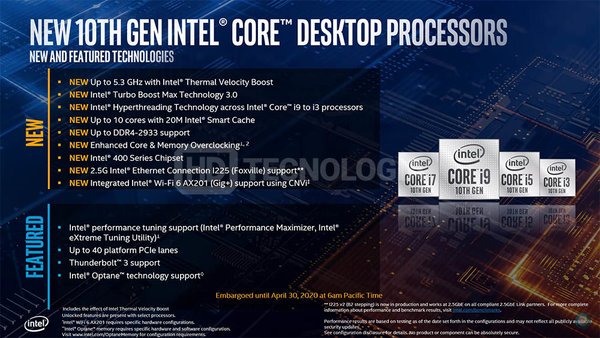 New 10th Gen Intel Core Desktop Processors Features:
The latest desktop processors will have an even better performance than before. It will offer up to 5.3 GHz with Intel Thermal Velocity Boost. Intel has also come up with a new Intel Turbo Boost Max Technology 3.0. Other newly added features include Intel Hyperthreading Technology across Core i9 to i3 processors, up to 10 cores with 20M Intel Smart Cache along with up to DDR4-2933 support. It further also comes with a new Enhanced Core & Memory Overclocking feature. Apart from that, we get to see the new Intel 400 Series Chipset. It also has 2.5G Intel Ethernet Connection I225 (Foxville) support.
Intel 10th gen Comet Lake-S series Price:
These chipsets will be officially out tomorrow on 30 April. The prices are what people have been speculating a lot about. While the pricing is still not officially out, there have been price leaks of these chipsets straight from Intel's official pricing list that came with a presentation. Here is a list of prices of all the 10th gen Comet Lake-S series chipsets along with their configurations as well.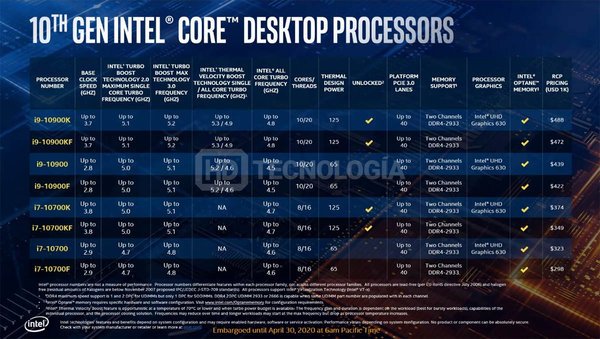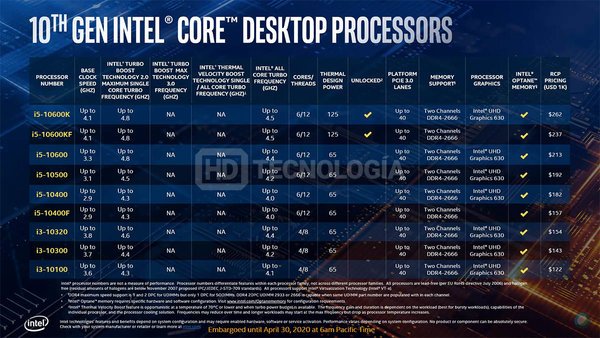 These are the prices of all the Core and Celeron processors of the Comet Lake-S series chipsets, which will be out tomorrow. Let's see how these processors perform in the market and if they are able to beat the latest Ryzen chipsets.
Stay tuned for further updates on Intel 10th Comet Lake-S and more such related content. Also, share this article with all those people who have been waiting for the powerful Intel processor lineup