The PC gaming market has hugely evolved over the years. Gone are the days of owning a dedicated gaming console. Your PC can provide just as much thrill and entertainment. From an entry level to a beast, gaming PCs have taken over the world. There's the MSIs, the ROGs, the Omens (HP) and the list goes on. However, one name stands tall with an unparalleled reputation, none other than, Alienware, a subsidiary to Dell. The number of people who possess the beast called Alienware are fewer compared to a larger number that fancy it. Little did we know that Alienware could be a big solution to the recent crisis. Everyone's well aware of the scarcity of GeForce RTX 3080 and RTX 3090 cards. So here's one way you can upgrade into a mammoth whilst also enjoying the new GeForce RTX 3080. 
Delving into Alienware Aurora R10 Ryzen 
Alienware by Dell sits at the pinnacle of PC gaming and its latest offering is surely enticing. Alienware Aurora R10 Ryzen Edition as such isn't a completely new machine. The Radeon GPU coupled units have been around for some time now. However, there appears to be a  twist in the tale with the introduction of the GeForce RTX 30XX series. Dell was quick to introduce newer versions of its Ryzen processor powered desktops with Ampere GPUs. The desktop featuring NVIDIA RTX 3080 coupled with 10GB VRAM is powered by Ryzen 7 3700X. The Alienware behemoth sporting NVIDIA GeForce RTX 3090 runs on Ryzen 7 3900X. The former is an affordable pick at $2,179.99. The latter is luxuriously overpriced even by Alienware's standard, in my personal opinion at $4,009.99. As far as my study of PC markets go, potential Alienware buyers aren't bugged by lofty price tags.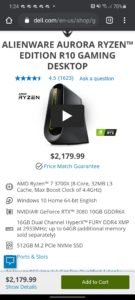 In search of a major PC upgrade? If gaming and heavy burdened graphic work is a priority, it doesn't get better than Alienware. The past week NVIDIA gave a rather disappointing reply to those interested in buying the new Ampere GPUs. Well aware of various complaints regarding scalping of GeForce RTX 30XX cards, NVIDIA still redirected its potential buyers to buy from online retailers. The likes of Gamehub, Best Buy etc. Unfortunately, they have all been caught . scalping too. Well, you have your alternatives now. Still, I suggest you go easy on that pocket.