Genshin Impact update 1.2 continues to leak some of the secrets it holds. Characters, artefacts or even equipment, you will find plenty of new features that will surely capsize you.
We told you about it a few days ago but hardly version 1.1 arrived, the beta of version 1.2 of Genshin Impact reveals some of its secrets to us and some of them are likely to please you. We will indeed address the future characters that should arrive in this famous version 1.2, which arrives on December 23. This is of course not all since it is also a question of an event offering a 4-star rarity weapon to players completing it. Again, a type of event that will have to be tracked to see if it will follow in the lineage of the game's major events like is supposed to be the one that allows you to get the character of Fischl, namely unreconciled Stars, or if it is a more basic event.
No more chatter, now is the time to provide you with the information on the next characters
Warning: There may be some changes between now and the final release of version 1.2. It is therefore possible that certain elements will not be available when the latter is deployed.
Genshin Impact 1.2 leaked Characters
It is via the official subreddit of the game that some images have leaked and among them, there are two visuals of two characters. These two characters would therefore be the next 5 stars available after Zhongli or, at least, those which will arrive at 1.2.
Among those two, you will surely have recognized one: Ganyu, who interacts with your main character at one point in the story and who is alongside Ningguang.
The second one has some similarities with your avatar and it is called Albedo. This is the captain of the Knights of Favonius investigation team. He will use a one-handed sword as his weapon.
As you can see from the tweet below from NEPTUNEXVIII, therefore, both will be 5-star rarity heroes and they will possess the following:
Albedo: Geo
Ganyu: Cryo
Update 1.2: 👀

5 stars geo sword – Albedo

5 stars cryo bow – Ganyu

4 stars cyro polearm – ….

4 stars fire polearm – ….#GenshinImpact #原神 pic.twitter.com/82g3iakyeG

— NEP NEP 💫 (@nep_impact) November 16, 2020
We don't have more information on Albedo, but Ganyu is revealing himself a lot as of this writing. We have the right to all its constellations and here they are:
Constellation 1: If an enemy takes damage from Frostflake or their AoE reduces the Cryo Resistance of the enemy or enemies hit by 15% for 6 seconds. Each hit restores 2 energy points to Ganyu. This effect can only be activated once by Frostflake Arrow.
Constellation 2: Trail Of The Qilin gains additional charge.
Constellation 3: The level of Celestial Shower increases by 3. The level cannot exceed level 15.
Constellation 4: Each enemy remaining in the area created by Celestial Shower has their damage taken increased. This effect increases as enemies stay in the area. The effect of increasing damage taken starts at 5% and increases by 5% every 3 seconds, reaching a maximum of 25%. This effect wears off after 3 seconds when the enemy leaves the area.
Constellation 5: Increases the level of Trail of the Qilin by 3. The level cannot exceed level 15.
Constellation 6: Using Trail of the Qilin allows the next Frostflake Arrow to not have to be charged.
Now that we're done with the heroes, let's talk about the weapons and artifacts that should make an appearance.
Genshin Impact 1.2 leaked Weapons
First, let's take a look at this new sword that will be offered as a reward for an event. It is this time through Zeniet that we have the preview of what will await us to have this famous weapon of 4-star rarity.
Introducing a new v1.2 event

Free 4* sword that gives you an advantage against the enemies of Dragonspine. Take on challenging bosses and obtain rewards.

Sword description mentions Albedo is a sword character.
Event sword increases elemental attacks by 16% and crit rate by 4%. pic.twitter.com/vUCHXPpxn5

— Zeniet (@Zeniiet) November 13, 2020
In this event, it seems that you have to do dungeons to get rewards. These dungeons will each have a boss. The ultimate reward of this event will surely be the sword which has a rather classic attack stat for a 4-star weapon with an attack base of 42. Its substat, according to the translations, would be a gain of 10% in recharge. of energy.
Different effects will be activated if ever Albedo is equipped with a sword (surely the one from the vent), increasing the damage you will do against enemies by 60%, your critical rate by 35% or even an increase in critical damage depending on a precise condition. We will have to wait for more information about this event to better understand it and see how it works in more detail.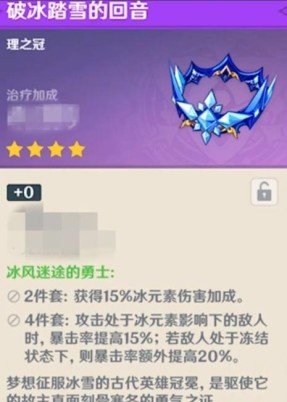 As for artifacts, two new sets are expected to arrive, based on the Cryo and Hydro elements.
And that concludes our article on these few new features that will normally arrive by the end of December with version 1.2 of Genshin Impact. We remind you all the same that it is very likely that some details may change by then. In any case, we will inform you as soon as there is any news on this future update 1.2.