Forza Horizon 5 is a realistic racing simulation game. It is the fifth installment in the massively successful Forza Horizon series. Likewise, the game is an open-world racing game from the developer studio Playground Games and from the publisher Xbox Game Studios. The Forza series of games are some of the most authentic racing simulations available today. Each entry in the series is a benchmark-setting game in terms of graphics. The game is available exclusively for Microsoft Windows, Xbox One, Xbox Series X, and Xbox Series S console family. This article is a guide on Forza Horizon 5: How to open a convertible.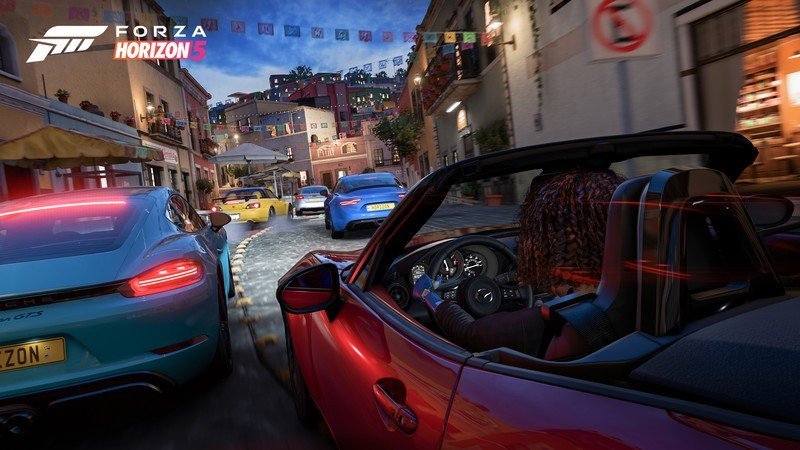 One of the biggest draws of the Forza Horizon games is their authenticity in the level of simulation. Likewise, many elements in the game are fine-tuned towards more realistic gameplay. Some of the technology behind the realistic physics & experience of the gameplay are Force Feedback Scale, Center Spring Scale, and Wheel Damper Scale.
Convertible Cars in Forza Horizon 5
Ferrari Portofino 2018 – The Ferrari Portofino is a Super GT that costs a reasonable 215,000 credits. It is one of the more affordable, entry-level supercars in Forza Horizon 5.

Mercedes AMG One – The AMG costs a large 2,700,000 credits. Likewise, the AMG is a hypercar and packs tons of power and performance in it.

Pagani Zonda Cinque Roadster 2009 – This convertible roadster costs around 2,100,000 credits. It has no unlocked requirements.

McLaren Z20S Spider 2019 – This convertible is one of the best deals on convertible cars available in the game. It costs a mere 340,000 credits.
Coming to the main topic of this article, there are many gameplay elements and features in the game that requires good knowledge to use properly. Therefore, players can read in this article regarding a guide on how to open a convertible.
How To Open A Convertible In Forza Horizon 5
In order to open the roof of your vehicle,
First and foremost, you have to be in a convertible car.

Then, go to your game's Settings >> Control >> Select Controller Tab >> Assign An Input On "Toggle Convertible" Option.

Once you have a convertible and also had assigned an input on the toggle convertible option, all you have to do is press the left stick or L3.

The convertible function will initiate opening its roof. This only works if the car isn't moving.