Epic Games is said to be about to open its flagship game to endless modding possibilities. It is in any case the thesis of a very serious leaker, who affirms that a mods support is in preparation on the side of the editor.
As Epic Games prepares to reveal to the world the biggest live event ever imagined on Fortnite, the publisher seems ready to take a hell of a turn for its flagship game. According to the very serious dataminer Lucas7yoshi, Epic Games would be preparing a modding support for Fortnite. No official confirmation at the time of writing of course, but the hypothesis is both credible and interesting.
Fortnite mods opens new avenues
The tool would allow players to add features to Fortnite, or modify some existing features, to develop additional game modes or additions to the base game. Clearly, this would represent a completion of the creative mode which, it must be said, has been going around in circles for months.
Epic Games has for a long time already expressed its wish to go beyond the strict contours of Battle Royale on Fortnite. The publisher no longer hides its interest in alternative modes, and is still actively working on some of them. The Royal Party mode, for example, presents itself as a world where "anything goes", and where players can enjoy shows, concerts or film viewings as in real life.
Confidence for this is its 100% in the works.

To what extent you could mod the game or what you could do with it im not sure. But its definitely by definition "modding". more info later w/ someone

— Lucas7yoshi – Fortnite Leaks (@Lucas7yoshi) November 23, 2020
Some experts also interpret the extensibility of the game as wish of Epic Games to create a Fortnite "metaverse", where users would be offered an infinite number of possibilities virtually. It is in this perspective that the arrival of modding on Fortnite could be integrated.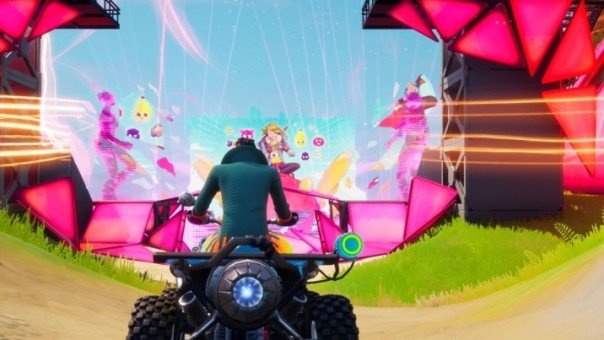 We must also go back a few months to flesh out this theory even further. On December 26, 2019, two months after the Black Hole, which forever changed the art of events in the video game world, Epic Games CEO Tim Sweeney cracked a rather intriguing tweet, in which he confirms that " Fortnite was just a game, but the question should be asked again in twelve months ".
The twelve months that Tim Sweeney talks about are (almost) behind us. And several clusters of clues are beginning to tell us that indeed, the Battle Royale as we know it is only the tip of the iceberg!