Blurry Graphics or unloaded textures are the last things that a gamer would want to experience. Unfortunately, many Forspoken players are facing blurry graphics and unloaded textures while playing the game. So, if you are also facing a similar issue, then you are at the right place. Carry on reading this guide till the end to learn how to fix this issue.
Forspoken is the recently released action RPG developed by Luminous Productions and published by Square Enix. This game was released on January 24, 2023, for PS5 and Windows PC. The plot of this game is quite unique and interesting. You play as Frey, who has been mysteriously transported to the magical lands of Athia. Assuming her role, you have to help her out in the same by battling monstrous creatures, confronting the powerful Tantas, and uncovering many secrets. Coming to our main topic, here is everything you need to know about fixing the Blurry Graphics or Texture not loading issues in this game.
Fix: Forspoken Blurry Graphics and Texture not Loading issue
Forspoken has been receiving mixed reviews from the players. The primary reason for the same is that the game has multiple issues. Here are some methods that several Forspoken players tried and eventually were able to resolve the Blurry Graphics issues.
1) Lower the Graphics Settings
You might be facing such issues when you are hardly meeting the minimum PC requirements of the game. If that is the case, then you must set the Graphics Settings to Low. Although this will make the game look ugly, at least the blurriness will be gone. Options like Motion Blur, Shadows, and other visual-related settings should be turned off.
2) Set "-noDirectStorage" in Launch Options
The Launch Option menu in Steam allows you to enter some commands to fix several issues in a particular game. So, to fix the blurry graphics issue in Forspoken, launch Steam, head to the game library, right-click on Forspoken, and select Properties. Here, in the General tab, set "-noDirectStorage" in the launch option and then try to launch the game and see if the issue is resolved. Also, make sure to set the Graphics Settings to low.
3) Turn off VRS and set Sharpness to 100%
Go to the in-game graphics settings and make sure to turn off VRS. You can also tweak the Sharpness setting. Setting it to 100% has resolved the blurriness issue for some players.
These were some tried and tested ways that have been practiced by the players who were suffering from this issue. If you are not able to fix this issue from these methods, you can try some general fixes too. Here are some methods that can resolve this issue: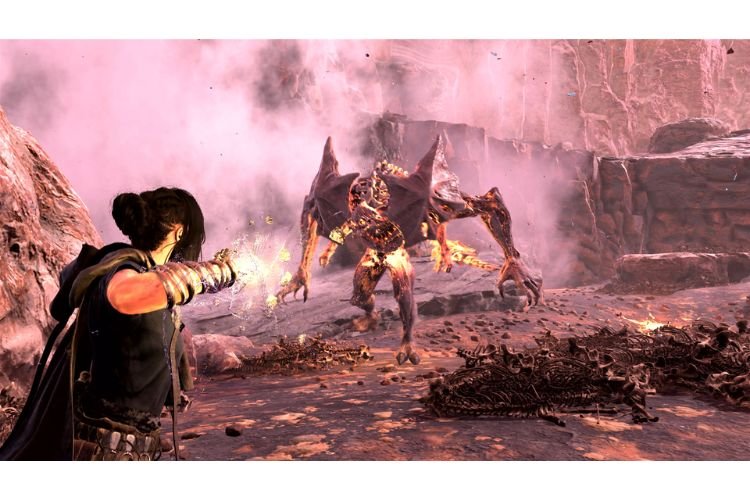 1) Verify Game Files
This issue can also occur due to some missing or corrupted game files. Verifying game files on Steam can help you resolve this issue. To do that, go to Steam > Library > Forspoken > Properties > Local Files > Verify Integrity of game files. You can do the same via the Epic Games launcher as well.
2) Update the Game and GPU Drivers
If the game has any updates pending, make sure to install them. The Blurry Graphics issue is quite common with NVIDIA RTX GPU users, which tells us that this issue is occurring due to some faults in development. So, make sure to install the game updates as well as the most recent Nvidia GPU driver update. If the issue started to occur after you installed the latest GPU Driver update, then consider rolling back to the previous one.
So, this brings us to the end of this guide. These were some fixes that you must apply to resolve the Blurry Graphics issue in Forspoken. If you found this guide helpful, share it with your friends.