Chromebook is a laptop or tablet that runs on the Linux-based Chrome OS as the operating system. Normally they are used to perform different tasks with the use of Google Chrome browser with many applications and data residing in the cloud rather than the machine. The hardware partners for Chromebook development in the beginning included Acer, Adobe, Asus, Freescale, Hewlett-Packard, Lenovo, Qualcomm, Texas Instruments, Toshiba, Intel, Samsung and Dell.
Chromebooks are normally shipped with Google Chrome OS which is an operating system and uses Linux kernel and Google Chrome web browser with an integrated media player. If you enable the developer mode, it lets you to install Linux distributions on Chromebooks. A few Chromebooks also have SeaBIOS that can be turned on for installing and booting Linux distributions directly. Chromebooks are initially designed for use while connected to the Internet and signed in to a Google account with limited offline capability and a fast boot time.
Users can add web apps from the Chrome Web Store instead of installing traditional applications like word processing and instant messaging. Google has claimed that a multi-layer security architecture eliminates the need of an anti-virus software.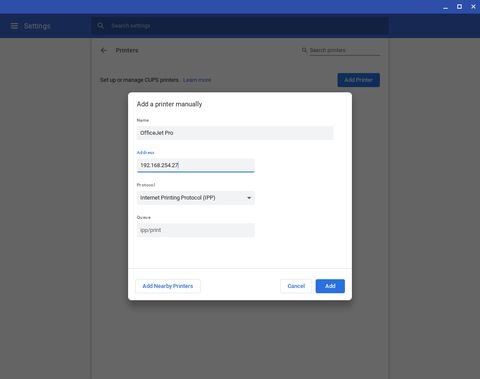 However, users have recently reported a problem where they said that the Chromebook is not able to connect to their printer. A user said that he bought a new printer and it was supposed to be wireless with compatibility to his Asus Chromebook and when he got to the second last step, the Chromebook kept telling him that it is not able to connect to the printer. A few people have said that although their printer got connected to the Chromebook, it was suddenly disconnected in between when users were busy with their work.
Some users said that the error occurs only in terms of some selected printers and some others said that although the printer was connected to the Chromebook, they were not able to print anything. Users said that they have purchased the best of the best printers and specifically those that are compatible with Chromebook but still it cannot connect to their printer. If you are experiencing the same type of issue with your Chromebook and printer, you can follow these steps to fix it by yourself –
Make sure that your printer is connected to the internet.
Make sure that the operating system of your Chromebook is updated and you are not using an old one.
Remove and reset your printer and then try to connect it again.