Rocket League is a Single as well as Multi-player Game which based on a vehicular soccer setup. It is developed and published by Psyonix. The game was released for Microsoft and Play Station 4 in 2015 and versions of MacOS and Linux were released in 2016.
The basic gameplay of the game includes hitting the ball in opponents' goal to score a point. Everything seems like soccer except the players. We have to hit the ball with our cars. In one Match maximum 8 players can play at once, 4 in each team and minimum 4 players, with 2 players in each team. The game became free-to-play in September, 2020 across all the platforms.
The cars of the game and graphics are a major attraction of this game. The teams basically have two theme colors, orange and blue. Each car in both the teams represents their team's color. Many of the fans wants modifications in this as they want to apply their favorite color to their cars according to their taste. In this article, we will talk about giving an All Black Color to the car in Rocket League. Here is everything you need to know:
Steps to Make All Black Car:
Most easiest way to do this on you computers is to install BakkesMod. This is a mod for Rocket League which will enable you to apply any color to your cars by overwriting car's colors. From here, you can apply Black or any of your favorite color to your car. But this method can only be applied by PC users and not any consoles users as you have to install Mod for this.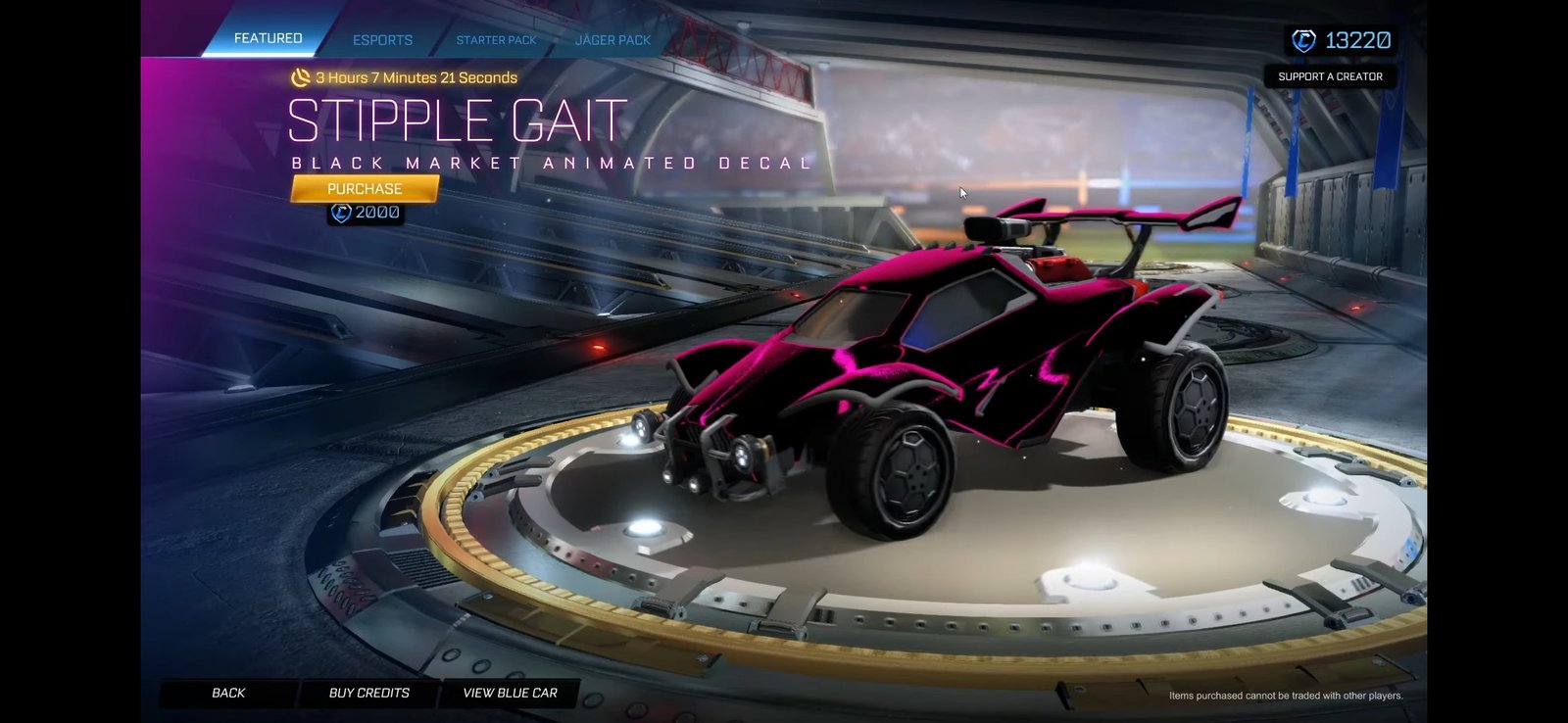 Another way is to get decals. The brand new, 'Stipple Gait" Decal comes almost black in color and to increase the impact of black color, you can choose a dark color. This method does not give you full black color but it comes up without the mod.
Next way is to join a dark colored club. As you know that when you play with the club members only, the car color changes to the custom club color. In this method also, you will have to apply 'Stipple Gait" Decal or any other decal and this also does not give 100% black color to you car as the darkest color available is dark grey. For the Club Games, you can also choose other decals but 'Stipple Gait' is the best as it will work in any mode of the game.