Farming Simulator 19 as the name suggests is a farming simulation game. The game comes from the developer studio GIANTS Software. It is available on various platforms including PlayStation 4, Xbox One, macOS, Microsoft Windows, Google Stadia and also, Macintosh operating systems. The game is a part of the best-selling Farming Simulator franchise.
Why is Farming Simulator 19 a fan-favorite?
The changes and upgrades in Farming Simulator 19 are massive factors as to why it is a fan favorite. Some of those improvements greatly optimized the overall gameplay and performance. The game is one of the biggest changes from the previous entries in the franchise. Consequently, the main biggest change is the change in the game engine used for its development. The change in the game engine features graphics overhaul, improvements in effects, and better game physics.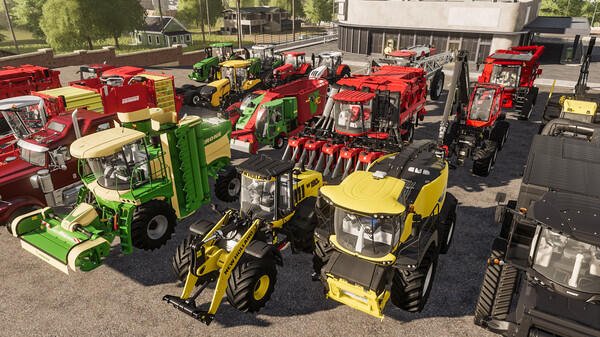 One of the biggest improvements & upgrade with Farming Simulator 19 is in the number of vehicles available in comparison to the previous entries. New environments featuring American and European styles of farmlands. The new vehicles, machinery, and also brand new environments resulted in a new and also rather complete farming experience.
Some of the fan-favorite features in the game are:
The graphical upgrades from the previous entries.

A larger open-world and environment types.

A wide variety is available to players in the vehicle roster.

The official support for mods.

16-Player online multiplayer game mode.
Is Farming Simulator 19 getting an upgrade for PS5 and Xbox Series X/S?
The fact that Farming Simulator 19 is one of the most popular and a fan-favorite in the Farming Simulator franchise makes a next-gen upgrade a popular demand. Although the game is currently compatible with both the PS5 and Xbox Series X/S, there are currently no literal upgrades for next-gen consoles. With many last-gen games getting a re-release or upgrade for the next-gen PS5 & Xbox Series X/S consoles. Many fans are wondering if the game will get a next-gen upgrade as well. However, there are currently no official plans or announcements for an upgrade of the game for the PS5 & Xbox Series X/S. The franchise is long-running and also gets a yearly new entry. Therefore, the chances of the game getting a next-gen upgrade is not so good.
However, this article will be updated with any new announcement of an official upgrade of the game for next-gen consoles.