In this article, we have discussed the Far Cry 6: Edition details pre-order and buy online to make it easier for players all across the world. This will help players decide which Far Cry 6 edition to go for while pre-ordering and buying online.
Far Cry 6
The Far Cry series has grown into one of the most popular shooter games ever and is a huge fan of hopping between entries worldwide. Far Cry 6 has already been announced. Consequently, players worldwide are going crazy after watching the trailer.
Far Cry 6 is a world-famous game from Ubisoft Toronto and Ubisoft Berlin, which takes gamers to the lush Yara islands, wherein a dictator has been spreading his tyranny.
FC 6: Edition details, pre-order and buy online
Far Cry 6 Standard Edition: 
Far Cry 6 Standard Edition is the first and the base edition of the game, which all players must buy if they wish to play the game. The Standard Edition of Far Cry 6 includes the base game only. Even though it doesn't offer any other goodies, we believe that story itself should suffice.
---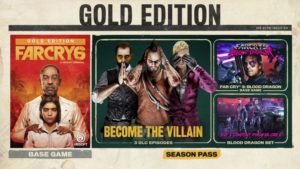 Far Cry 6 Gold Edition is the first special edition. At $110, it contains the game itself plus a season pass that allows you access to 3 DLC packages shortly after the title debuts in October.
With the Season pass, people will get access to
Vaas: Insanity – a post-game story expansion
Pagan: Control – a post-game story expansion
Joseph: Collapse – a post-game story expansion
Far Cry 3: Blood Dragon – Classic Edition
The Blood Dragon Set:

Blood Dragon Gear Set
AJM9 weapon
Kobracon weapon
Omega Enforcer vehicle
KillStar weapon charm
K-9000 Fang for Hire
Bloody Dragon vehicle chibi
---
Far Cry 6 Ultimate Edition: 
The 
Far Cry 6 Ultimate Edition
 is just $10 higher, at $120. It contains the 
game
, the 
seasonal pass
, and the 
Ultimate Pack
. The Ultimate pack has
3 packs
of premium items with exotic costumes, firearms, and more.
With the Ultimate Pack, players get access to some really cool content. The content available with the Ultimate Pack are as follows:
Croc Hunter Pack

45/70 weapon
45/70 Cartridge vehicle accessory
Croc Tooth weapon charm
The Bushwhacker outfit
Off-road vehicle

Jungle Expedition Pack

Compass weapon charm
SBS weapon
The Adventurer outfit

Vice Pack

Champagne – a white panther companion
Golden Bullion weapon charm
Letter Opener vehicle accessory
Skorpion weapon
The Miami Strip outfit
Convertible vehicle
However, the Ultimate edition is only digitally accessible. So, players who go for this edition will have to give up the opportunity to get a steelbook or a copy of the game.
---
Far Cry 6 Collector's Edition: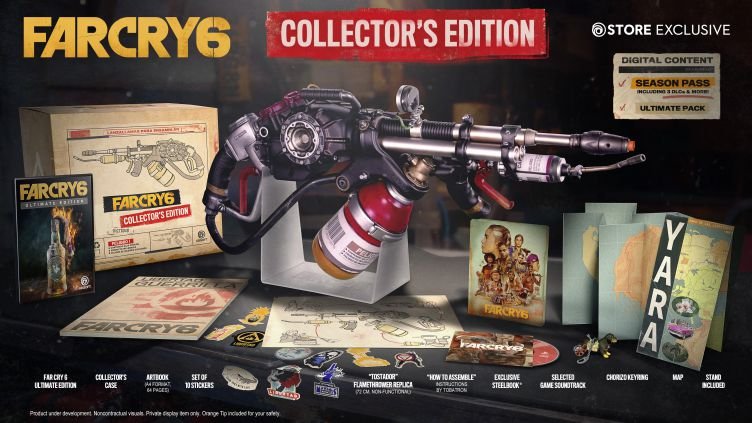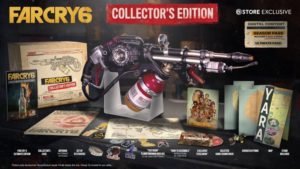 The 
Far Cry 6 Collector's Edition
is the best option for Far Cry enthusiasts and die-hard fans. The Collector's edition bundle encompasses everything which the Ultimate Edition has to offer. Additionally, it also provides a
unique steelbook and a souvenir flamethrower
.
Players can also find other souvenirs like a set of 10 stickers, an Artbook, a Soundtrack, Map of Yara, Chorizo keyring with the Collector's edition of Far Cry 6. This is only officially accessible from the Ubisoft website.
---
Also Read: