It's funny how new launches stir the market every now and then. This is often followed by a period of brief silence until something else is ready to rock and roll. So then, what's rocking the technology space in current times? Well, if you have been visiting Digistatement, then you're probably murmuring the answer to yourself. If not, worry not, we have you covered. NVIDIA's GeForce RTX 3000s have taken the graphics card space by storm. The Ampere-based GPUs are the first of its kinds and promise to provide a never experienced before thrill. The introductory line of RTX 3000s has three SKUs, RTX 3070, RTX 3080 and the BFGPU RTX 3090. But as per latest sources, NVIDIA is waiting for the correct time to reveal a few surprises.
NVIDIA GeForce RTX 3090 Ti in the making?
There is no surprise that however great the new family of Ampere GPUs be, the geek inside us wants more. Moore's Law is Dead on Twitter seems to have heard our greedy cry and has leaked some information. The stats are particularly interesting hinting at a successor to the GeForce RTX 3090. In terms of specifications it outweighs the RTX 3090 in CUDA core count (10496) with a sum of 10752. The dedicated video memory is listed at twice the RTX 3090 at almost 49 GB, X type. In another tweet, the twitter user reveals NVIDIA Q6000, claimed to be built upon the GA102 platform. This tweet was greeted by criticism of NVIDIA, suggesting that GDDR6X memory was a mistake on the RTX 3080.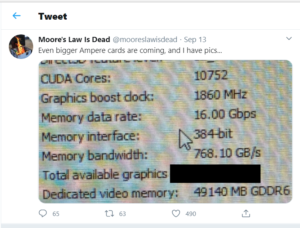 Me and fellow enthusiasts have been keeping tabs on NVIDIA's various moves. It did feel like a Ti or Super variant would be introduced sooner than later. This I say while dwelling on my experience of the GeForce RTX 2080. The RTX 2080 Ti did loads of good to those who seeked more from the Turing generation of NVIDIA GPUs. GeForce RTX 3090 Ti or Q6000 whatever the next big thing from NVIDIA be, those figures surely don't look disappointing.