Battlestate Games has released another update today for its realistic first person shooter Escape From Tarkov. The update is fairly small but provides an important foundation for the release of 12.6 update. Here is everything we have gathered from official sources about the new update :
Yesterday the developers released a small technical update for the game client set to improve the stability of the current state of the game. The announcement was made via a tweet from the Beta Announcement handle. The update was available for download from the launcher and provided no downtime for the game. In other words, the game did not stop for the update to finish.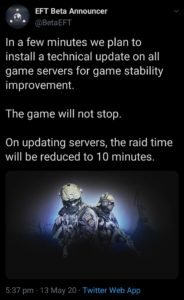 Today another announcement came our way from Battlestate Games regarding the 12.5.7292 update. The tweet mentioned that the updating process would begin at 13:00 Moscow time, and it would take the game servers approximately 2 hours to update.
As of now, the updating process has already begun and the game will be down till the process is complete. As mentioned in the tweet, this should take 2 hours. Any incomplete/ongoing missions will not be saved during the maintainance downtime, so we hope you had cleared up your schedule for the update.
Many players were wondering over social media whether the server wipe will happen or not. As of now, no wipe is planned till the release of 12.6 update. Following you will read the patch notes for this update :
The update will be focusing on fixing all the bugs that have been reported since 0.12.5.7214 and other issues will be handled.
Bug fixes :
Limitation of view in the thermal imaging scope.
Various bugs that could affect the performance of the game and freezes.