Camera in mobiles has been the prior tactic to most brands for gaining users. Nowadays, buyers primarily look for a good chipset for gaming or a good camera module. The main reason for users wanting good camera features is due to social media. Networking and vines platforms have seen a drastic rise in uploading and sharing pictures and videos. Therefore, a better camera module always is an advantage for a smartphone. Camera and image editing apps also have been frequently downloaded and been on demand. Some apps are in-built and enabled as default because of their need and user convenience.
However, many prefer applications available on the internet that serve the users in more detail mannered. Google Camera is immensely famous for serving camera lovers by working on these detailed features unavailable in the default camera.
Google Camera Ultra CVM MOD Details-
First of all, Gcam itself is a very popular app in its original version. The MOD version is undoubtedly a premium application for enhanced camera capture. GCam provides all the features that one can find in the official Google Camera in-built in Google Pixel mobiles. The latest version of that app is Gcam 7.3. But CVM Developers have come up with the perfect MOD for Gcam and the latest version is Gcam Ultra CVM MOD v4.0.
As quoted by the developers, the intention behind the MOD is to provide extra-ordinary camera quality to mid-range and low-range devices. These quality pictures can only be captured in Pixel phones if the apps and MODs weren't available, so thank Gcam! Among the dozens of features, the main highlighted ones are Lib Patcher, Tone Curve, Gamma Curve, Exposure Compression, HAL Mode, AUX Lenses.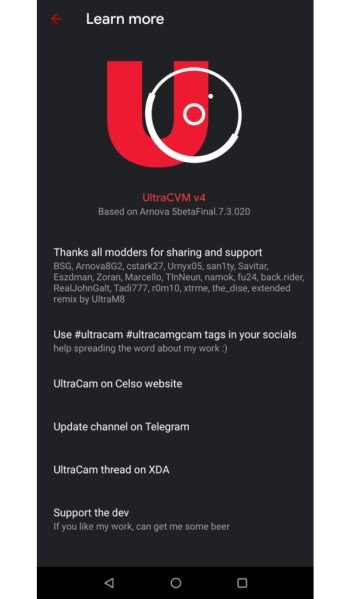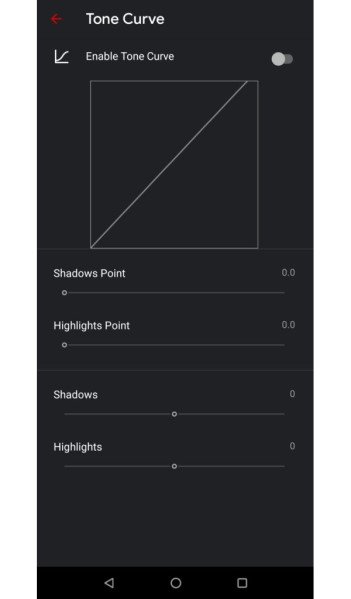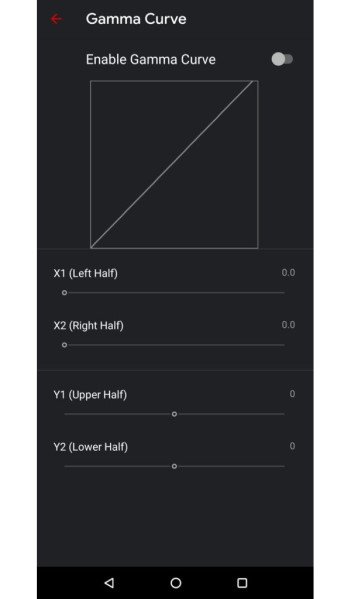 GCam Ultra CVM MOD 4.0 Features-
Tuned for best possible picture quality

Redid & fixed Libpatcher

Added spatial denoise

Added option to use OEM noise model from rom libs

Fully reskinned settings & UI

Added shutter control

Added exposure compensation

Ported Xiaomi API2 camera & AI keys

Added experimental Qualcomm HDR bracketing mode

Added awesome Tone & Gamma graph UI

IMX586 Per-channel noisemodeller

Added all my v3 NoiseModels with auto detection per sensor

Added video bitrate options

S5KHMX noisemodeller

IMX686 noisemodeller

IMX582 noisemodeller

S5KGM1 noisemodeller

S5KGW1 noisemodeller

IMX363 noisemodeller

Added AWB per AUX

Added new model for selfie cam

And finally – added new awesome custom Logo
GCam Ultra CVM MOD 4.0 Changelog-
Returned to the natural look
Removed compression and downsampling
Bilateral filter Sabre and Exposure have been retweaked
Tested devices with Gcam Ultra CVM MOD v4.0-
OnePlus 8 and 8 Pro
OnePlus 7 and 7 Pro
Pocophone F1
OnePlus 7T and 7T Pro
Poco F2 Pro (K30 Pro)
Poco X2 (K30)
Redmi Note 8
Redmi Note 7 and 7 Pro
Mi 9T and Mi 9T Pro (Redmi K20 and K20 Pro)
Samsung Galaxy S10e;
Galaxy S10 and Galaxy S10+;
Galaxy Note 10 e Note 10+
Samsung Galaxy S20, S20+, and S20 Ultra;
Galaxy S8 and S8 Plus;
Galaxy S9 and S9+
Samsung Galaxy Note 9
Moto X4
LG V20, LG V30
LG G8, G7, G6
Moto G7 Series
Moto G6 Series
Download Gcam Ultra CVM MOD 4.0-
Click the link below to instantly start downloading the MOD Apk.
Reach out to us via the comments section if you face any trouble in installing the latest Gcam Ultra CVM 4.0.
Rest assured, we post related content and updates every day, so stay tuned! Also, share this article with all those who are looking for a better camera application!