Enter the Gungeon is a dungeon crawler, minimalistic bullet hell roguelike video game. The game features procedurally-generated levels similar to games like Binding of Isaac. Enter the Gungeon comes from the developer studio, Dodge Roll, and indie publisher, Devolver Digital. The game is available on various platforms such as Microsoft Windows, OS X, Linux, PlayStation 4, Xbox One, Nintendo Switch, and also, on Google Stadia. The game features both single-player and multiplayer game modes. Likewise, it features an exciting local co-op multiplayer mode for players to play with friends. You can read more info on the multiplayer mode in Enter the Gungeon here.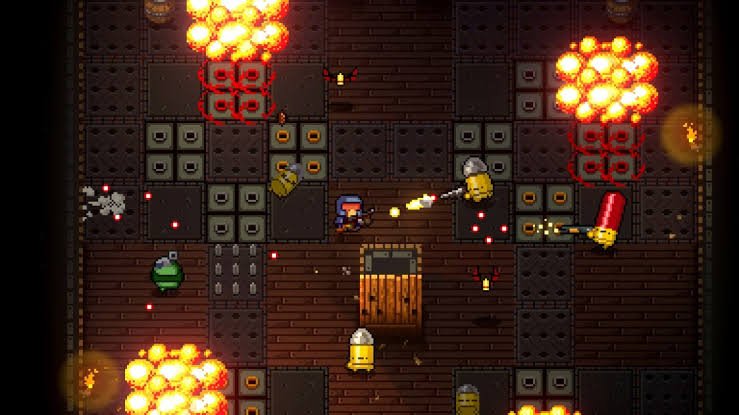 Co-op Not Working in Enter the Gungeon
Enter the Gungeon features an exciting single-player mode. However, a more rewarding and fun mode to play with friends is the co-op mode. The game supports co-op local multiplayer on each platform. Likewise, the co-op multiplayer mode is only available for up to two players. However, the game does not streamline or give a straightforward guide on how to play the co-op mode in the game. Therefore, it leads to confusion among many players and they are unable to play the co-op mode. This issue is not due to the co-op mode in itself, but in the way, the devs design the selection for co-op mode in the game.
Coming to the main topic of this article, many fans are sometimes confused & wondering if there is an issue with the co-op multiplayer modes. The gunplay and dungeon crawler gameplay of the levels are best for co-op multiplayer.
Fixes and Workarounds to Co-op Not Working in Enter the Gungeon
Connect two controllers if you're on PlayStation 4 and Xbox. Likewise, connect an additional controller if you're on Windows PC.

The co-op mode selection is a bit tricky, both the controllers control the main player before entering the co-op mode. Therefore, this is not an issue, and do not worry.

The main player has to go to the "Breach" hub in the characters selection area and talk to the Cultist in the purple robe.

You have to talk to the Cultist and select "Yes" when a dialogue for the co-op mode pops up.

Players can now enjoy the co-op mode and play multiplayer gameplay with their friends.