It's only been a while since EMUI 10.1 debuted with the Huawei P40 series and rumors of the upcoming EMUI 11 are already there on the internet. Huawei has been busy rolling out updates to a lot of its devices these days. Recently, we saw a lot of devices picking up the EMUI 10/10.1 updates, and the latest security patches as well. Many old devices are also getting feature updates including Huawei Assistant and Smart Charge. Now we have an alleged list of all the EMUI 11 eligible devices which has leaked over the internet.
EMUI 11 is Huawei's latest iteration of the in-house custom OS based on Android 11. As of now, the custom OS is still under development and we don't have any solid leaks so far. However, in a recent post from the official Huawei Club pages, an alleged list of all the EMUI 11 eligible devices has started surfacing. The authenticity of this list still remains a question for all. This list mentions all those devices that are supposed to be getting the EMUI 11 in the first batch. Here is the list of all those devices.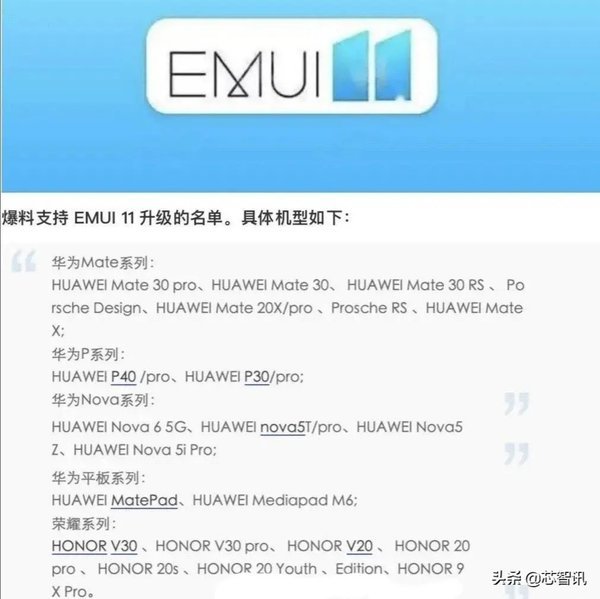 If the list is real, it's pretty much certain that Huawei has made quite a progress on EMUI 11. Well, the OEM has done a great job with EMUI 10.1. It comes with a lot of cool features and UI improvements as well. That being said, it's quite interesting to imagine what the brand will be bringing with EMUI 11. Rumors do suggest that  EMUI 11 will debut with the upcoming flagship Mate 40 series which will be launching in Q3 2020. Also, considering the fact that Android 11 Beta is already out, Huawei might very soon announce the EMUI 11 beta program for its devices as well. However, we don't yet have any information regarding that.
Along with EMUI 11 for Huawei devices, Honor devices will also get Magic UI 4 based on Android 11. For the most part, both the OS will almost be the same as we have been seeing in the past. Talking about features, we do have a lot of expectations from Huawei for the upcoming EMUI 11 and Magic UI 4. That being said, did you find your device in the above list? What feature do you want with this next big update? Let us know in the comments below.