Despite the US Trade ban, Huawei promised that they will continue to provide Android OS updates to their handsets. Just a few days ago, Huawei started to roll out a beta update for the Huawei Mate Xs device.
And now, Huawei has started EMUI 11 closed beta recruitment for Huawei P30 & P30 Pro. This closed beta update is only available for 200 users and you can receive this update by applying in the beta recruitment.
Apart from that, Huawei will soon release a public beta update for Huawei Mate 20 series, Huawei Nova 5, Honor 20 series, Honor V20 series, Honor Magic 2, and all the devices released in 2018 and 2019.
This information comes from an official Huawei forum post. A screenshot of the official statement is given below.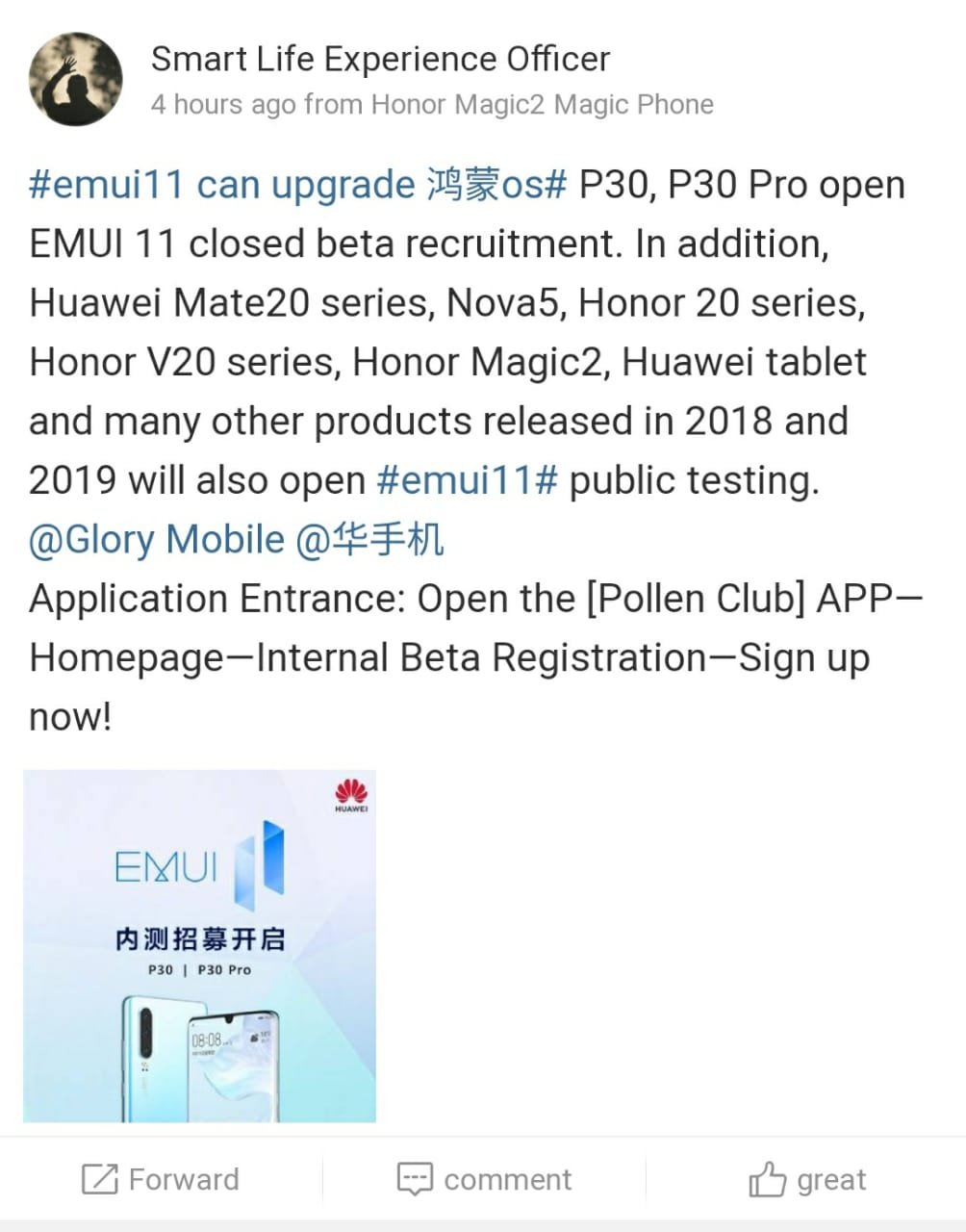 If you want to apply for the EMUI beta recruitment, kindly follow the steps below.
How to apply for EMUI 11 closed beta registration?
Go to the Pollen Club App and open it
After opening this app, click on "Homepage"
There you will find an option of "Internal Beta Registration", click on it.
Now, click on Sign up now! and fill in some details. BOOM! you have signed up for EMUI 11 closed beta recruitment.
EMUI 11 is based on Android 11 and is focused on visual enhancements and privacy upgrades. It has smoother animations, modernized visual elements, and a UI that feels more coherent overall and with Huawei's additional AI features, EMUI 11 is prepared to give a remarkable experience to the users.
Note: The beta update is an update in which selected users can test the beta features and use it on your device before it is made available to other users. However, beta updates may come with some bugs and it is advised not to register for this update from your primary device. It is not compulsory to participate in this registration, if you do not participate you will continue to receive stable updates as you currently receive.
We are continuously tracking reports related to EMUI 11 & will update you with more information whenever it arrives, so stay tuned! Follow our website to get technology updates as soon as we publish them.