A combination of both good software and hardware is what makes an amazing device. Almost every OEMs these days provide their own Custom OS on top of Android. These Custom OS provide a whole new experience altogether. Some of these Custom OS is way too good to deny loving them. EMUI is one of them. EMUI is the Custom OS developed by Huawei for its device and Honor devices. Well, Yes, the Chinese brand is not just making breathtaking devices but also taking great leaps in terms of quality software. Ever since its very first iteration, EMUI has evolved a lot from them. Now, what we get is one of the best in class Custom OS in terms of software. The latest EMUI 10 updates based on Android 10 have been rolled out to many devices, and the remaining will also be receiving the update soon.
Well, what makes today's headline is quite interesting. With the launch of the latest Huawei P40 series, Huawei has also released the latest iteration of EMUI. The Huawei P40 series comes with the latest EMUI 10.1. Believe it or not, you are going to fall in love with the amazing EMUI 10.1. It doesn't matter whether you are an EMUI fan or not, you got to admit this update comes with a whole lot of impressive features. Hold on tight, if you are already excited to know about these awesome features. Today's article will get you covered with everything that you need to know about EMUI 10.1 and its new features.
EMUI 10.1 features:
The latest EMUI 10.1 brings with it tons of new and exciting features. You are definitely going to love these features. This might seem like but is not just any other minor update. This is a major update and brings huge changes to EMUI. Let's dive in. These are some of the most amazing features of EMUI 10.1:
New AI Voice Assistant "Celia":
Out of the many amazing features that EMUI 10.1 comes with, this one is quite interesting. Well, we know that there are already assistants like Alexa and the Google Assistant. But, seems like Huawei thought, why not get our own Assistant and here it is. Celia is the new AI voice assistant for Huawei devices. Just say "Hey, Celia" and ask anything that you want. It can answer questions, set alarms, reminders and pretty much everything that the other assistants can do.
Huawei MeeTime:
Sound like Facetime, isn't it? Well, Huawei has now developed its very own video calling app, just like Apple's FaceTime. MeeTime allows you to enjoy 1080p video calls, low-light mode, and a very interesting screen sharing feature which you don't get with third-party apps. Share your screen with your friends to easily show them what's on your device over video calls. Not just that, MeeTime allows you to continue calls in the middle of it on Huawei's Smart TV and its Smart Speaker.
New Always On Display:
EMUI 10.1 brings a new AOD feature, which is a lot more improved than before. The latest AOD feature brings 3D icons and notifications. We also get to see different images and logos which are beautiful and vibrant. This new AOD feature was designed, keeping in mind about the AMOLED and OLED displays. It will also consume lesser power than the previous versions did.
New Multi Window feature: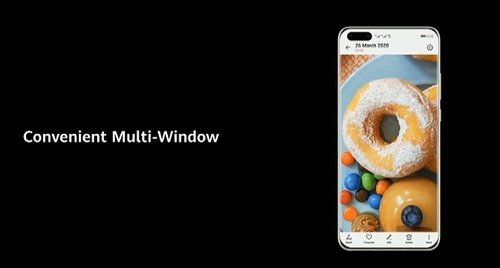 Now, we also get to see an Edge Panel, just like the one in Samsung devices. This contains shortcuts to apps and widgets, which can be accessed by swiping from an edge on the screen. Well, EMUI 10.1 has made multi-tasking a whole lot easier with the new multi-window feature. Now, you can easily drag and drop images and text from one window to the other. It also lets us easily reply to messages in a floating window without disturbing the current workflow.
Cross-Device Photo Gallery:

We have already seen this before with other OEMs. Huawei has now brought this feature with the latest EMUI 10.1. It allows you to easily access the gallery of any of their device on all the other devices that are connected to the same Wi-Fi network. We also see a search box allowing people to easily find what they are looking for by simply typing in the keyword of what the picture is.
Multi-Device Control Panel: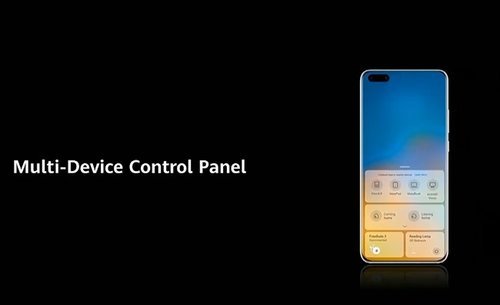 We have also seen this feature before, but this is not exactly what we saw. Earlier, we had only seen controls of different devices from different sections. Huawei has very cleverly merged all this into a single and smarter control panel. This feature lets us control all the devices connected to your phone from a single place. This feature provides you a control panel, from where you can control all the connected devices and also manage new connections to other devices.
Huawei Music, Huawei Video and Huawei News:
Well, EMUI 10.1 also brings some stock apps for getting media and news content readily available on your device. You don't have to search for them or download any other third-party app. Huawei has collaborated with some of the most popular media partners to deliver media and news content directly through these new apps on your phone.
---
MUST-SEE :
---
These were some of the many amazing features that the latest EMUI 10.1 comes with. Currently, EMUI 10.1 is only available and running on the latest Huawei P40 series of devices. We all get to see other devices getting the update very soon.
---
UPDATE: March 31
EMUI 10.1 update ( beta) roadmap for Huawei and Honor phones is now announced by the company. However, it is currently applicable to Chinese devices. Check out the roadmap below;
March 31
Huawei Mate 20
Huawei Mate 20 Pro
Huawei Mate 20 RS Porsche Design
Huawei Mate 20 X 4G
Huawei Nova 6
Huawei Nova 6 5G
Huawei Nova 6 SE
Huawei MatePad Pro
Huawei MediaPad M6 (8.4/10.8)
Huawei MediaPad M6 Turbo Edition
Honor 9X
Honor 9X Pro
Honor V30
Honor V30 Pro
Honor V20
Honor 20
Honor 20 Pro
Honor Magic 2
Early April
Huawei Nova 5
Huawei Nova 5Z
Huawei Nova 5 Pro
Huawei Nova 5i Pro
Honor 20S
Mid-April
Huawei P30
Huawei P30 Pro
Huawei Mate 30 4G
Huawei Mate 30 5G
Huawei Mate 30 Pro 4G
Huawei Mate 30 Pro 5G
Huawei Mate 30 RS Porsche Design
Late April
Huawei Mate X
Huawei Mate Xs
Huawei Mate 20 X 5G
Huawei Enjoy 10S
Honor 20 Youth Edition
Stay tuned for further updates on EMUI 10.1 update. Also, share this article with all those people who have been wondering about the EMUI 10.1 update.