Katanas are something that has always fascinated players, even in souls like games like Elden Ring. Pairing it with a custom build, it looks even cooler. One of the sturdiest and sleek-looking katana, Meteoric Blade is one of the weapons that deliver powerful slashes but is also a mix of strength, dexterity, and intelligence. However, finding this fine blade in the gigantic world of Elden Ring is no easy feat and is hidden pretty well. In this guide, we'll guide you on how you can get your hands on the Meteoric Blade and slash enemies in style. Continue reading the article to know how to get the Meteoric Ore Blade in Eldin Ring.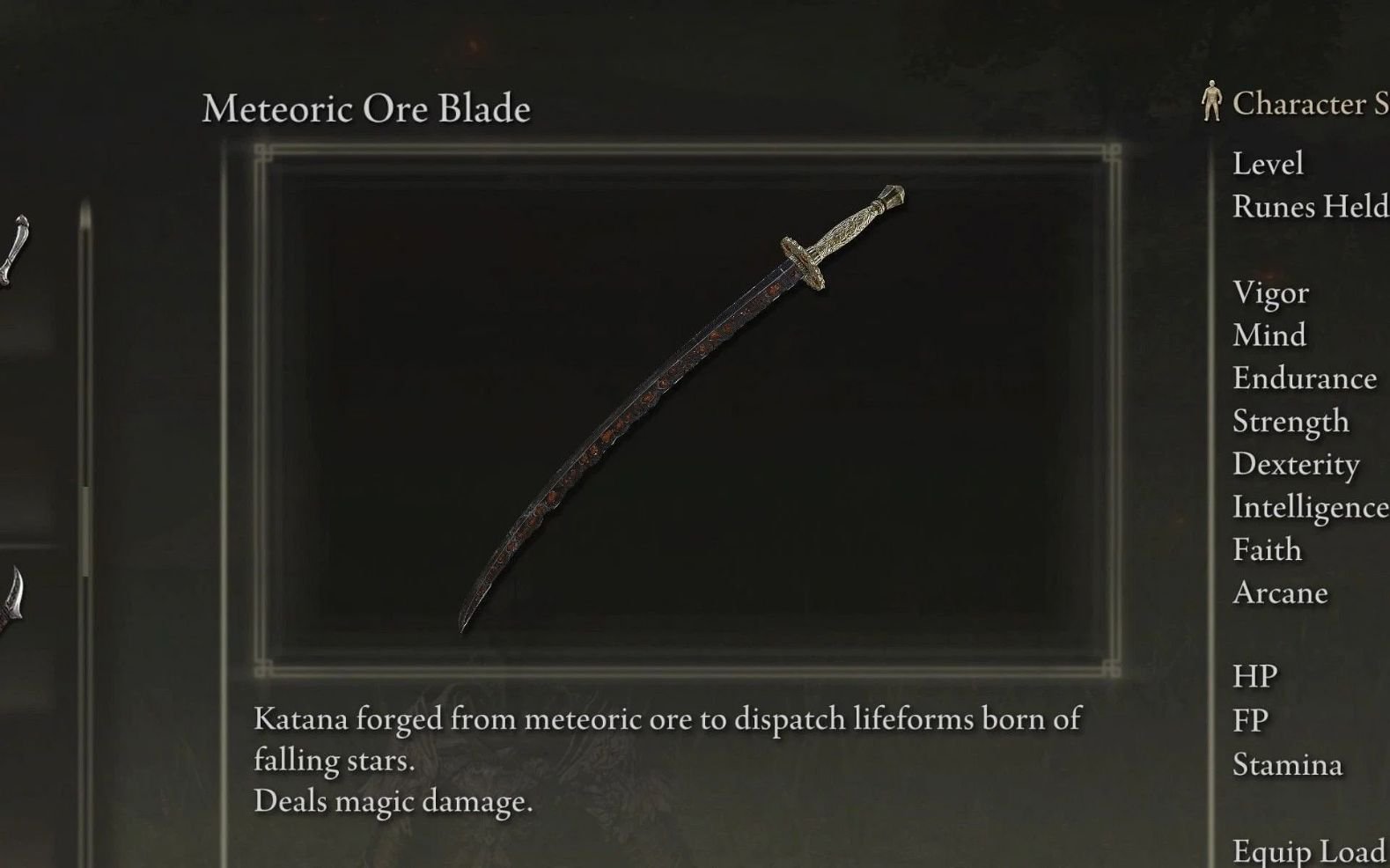 One of the best slash and pierce weapon, Meteoric Ore Blade can be found pretty early and has stats and effect that rivals some of the best weapons in Elden Ring. To wield this weapon, you need 15 Strength, 14 Dexterity, and 18 Intellect. The katana also inflicts a bonus effect Bloodloss when enemies get hit with this weapon. Not to mention it has attribute scaling for strength (D), Dexterity (E), and Intellect (B).
How to get the Meteoric Ore Blade in Elden Ring?
Meteoric Ore Blade is one of the exotic katanas in the game and is easy to get your hands on if you know where to look for it. To get it, head East until you get to the Dragon Burnt Ruins and look for a stairway that goes down. Once you've found it, follow the stairs, avoid the rats and go to the chest in front of you and open it. It'll entrap you and send you to a new location. You'll be transported to the Sellia Crystal Tunnel in Caelid. After you reach there, sprint and turn right and keep sprinting out of the tunnel, turn left when you get down and you'll see a site of grace.
Mount the horse and go to Caelid Waypoint Ruins and find the staircase that leads to the underground dungeon again like before and open up the door. You will find a chest there, open it and grab the Meteoric Ore Blade Stashed inside. Kill all the monsters in the area just to be safe as getting killed by monsters when acquiring this katana will be the last thing that you want to do. Have fun slaying bosses with this weapon.
We hope that you enjoyed reading this article, stay tuned for more updates about Elden Ring, guides, news, and more at Digistatement.