Eastward's release is around the corner and many players are eagerly waiting for it. This game revolves around John, the best miner in a post-apocalyptic underground town, digging up with a white-haired child named Sam. This unlikely duo works hard as a miner hoping to see the outside world again. This game is all set to get released on macOS, Switch, and Microsoft Windows.
Many players who have watched the Announcement Trailer of Eastward have become a fan of the music that is playing in the background throughout the video. Apart from the game, the soundtrack has also attracted many people out there. But, the people who loved this song are unable to get the source to listen to it without watching the announcement trailer every time. So, we are here to provide you with the source of this song so that you could listen to it any time anywhere without watching the trailer. Here is everything you need to know about it.
Eastward Soundtrack (Iron Carbine): Listen from Here 
Many players have been captured by the dynamic rhythm (Iron Carbine) in the game trailer. So, if you want to listen to this soundtrack without watching the gameplay trailer, then you can visit the official website Bandcamp Website of Joel Corelitz (Music Producer) to listen to this song online. To visit the website, you can head here.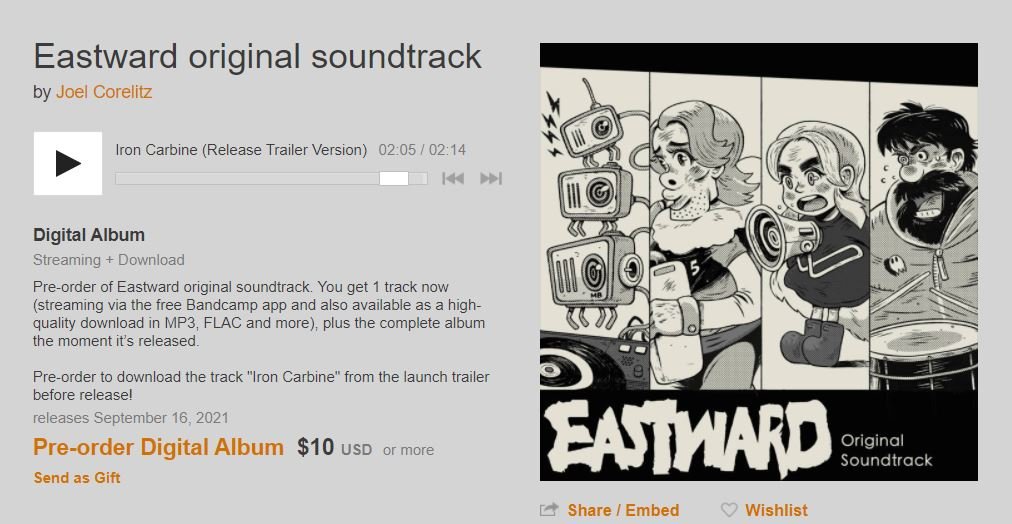 If you download the free Bandcamp app and pre-order this song, you will also get a high-quality download in MP3, FLAC, and more. You can also pre-order Joel Corelitz's full music album from the same website to get to listen to every song as soon as it gets released. Moreover, you can also purchase the Steam soundtrack after the official launch.
So, these were the ways through which you can listen or download the Eastward Original Soundtrack, Iron Carbine. If you found this article helpful and informative, share it with your friends.
Read the latest gaming news:
Enjoy Gaming!!