OnePlus is a Chinese tech giant immensely popular across the globe. Users call OnePlus the best Android smartphone in the world. Fun fact is not just users, but from YouTubers to Bloggers to Reviewers, everyone's got a thing for OnePlus and the luxurious yet essential load of features these devices pack. The custom OS from the brand, OxygenOS is also one of the best interfaces that support Android OS.
Lately, OnePlus has been receiving backlash for a very interesting application developed by the brand. OnePlus is launching OnePlus Nord but due to the pandemic, the brand will not be able to host a live event. Therefore, OnePlus came up with the idea of augmented reality (AR), and that's where the app name comes from.
But unfortunately, the app hasn't made its way to all the OnePlus users. The internet is filled with complaints about the app not functioning in many OnePlus devices.
OnePlus Nord AR App issue-
First of all, the app directs you to spin your device on a plane surface and the joke begins right there. A lot of users have tried this with their device and got nothing but disappointed. Many users have reported that the app isn't working on most of the OnePlus 8 series devices. But people are facing this issue on their OnePlus 6, OnePlus 5T, and even other devices (from other brands like Nokia) running on the latest Android 10 OS.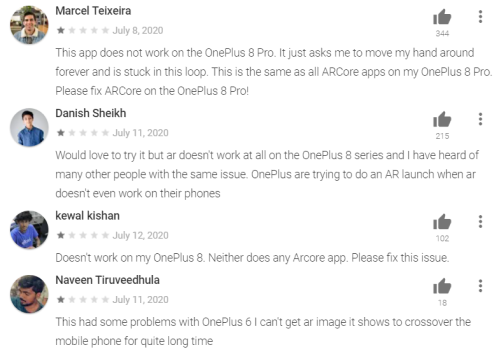 But there's a very simple way to get the finest version of the OnePlus Nord AR app on your mobile. All you need to do is follow the simple two-step process shown below and with that, you will be able to use the app even if your device isn't supported.
Download OnePlus Nord AR on unsupported devices-
Step 1- 
You need to download the app from a source other than Google Play Store. You can download from APKMirror whose link is provided below.
Step 2- 
After downloading, you need to install the Nord AR app using the third party installer linked below.
With that, you will be able to use the OnePlus Nord AR without any issue.
Rest assured, we post related content and updates every day, so stay tuned! Also, share this article with all those who were facing issues with the OnePlus Nord AR app.