A piece of very common information is that most of the Android devices use Fastboot and other tools to flash ROM/ software, etc. Samsung has always had its way of getting things done on its mobile devices. The brand has a very easy process to help with flashing the Samsung devices and that's where Samsung ODIN3 comes into play. Commonly known as ODIN, it's still a wonder how such a complicated process that users rush to mobile service centers can now be performed at home with the help of a computer.
A moment of silence for those who have been looking for TWRP and flash tools/ stock firmware as the ODIN is the best tool for Samsung devices to complete flash and other technical jobs that we will get to. Before proceeding with the download process, quickly go through some of the details about ODIN.
Samsung ODIN (2020) Details-
As mentioned before, in the case of Samsung devices, stock firmware or TWRP is completely unnecessary to flash and perform functions in the device. ODIN tool can be operated only in Windows-based laptops. Mac users cannot install this tool as it is specially designed for Windows PC and computers, so please keep that in mind before proceeding with the download process.
With ODIN, you can easily install firmware binaries (BL, AP, CP, CSC [CSC and HOME_CSC], and PIT). The process is not as complicated as the names seem to be! Not just for flashing and installing the mentioned binaries, but you can also perform tasks like root files, or installing custom ROM on Samsung mobile devices with the help of ODIN flash tool (2020).
Follow the simple instructions given below to install the ODIN flash tool. Also, the ODIN flash tool supports all Samsung Galaxy devices. 
Download ODIN (2020)-
Before checking out the links, there are a couple of things that one needs to ensure before starting the download:
---
---
Download USB driver for Samsung devices :
File Info:

Name – Samsung USB Driver v1.5.65.0
Type – RAR
Size – 30 MB
version – 1.5.65.0

Download Samsung USB Driver v1.5.65.0

File Info:

Name – Samsung USB Driver v1.5.63.0
Type – RAR
Size – 9 MB
version – 1.5.63.0

Download Samsung USB Driver v1.5.63.0

File Info:

Name – Samsung USB Driver v1.5.51.0
Type – RAR
Size – 15 MB
version – 1.5.51.0
---
Download the desired ODIN version based on the OS that your Samsung device boots on. Click the link and download will instantly begin. After downloading the file, follow the instructions given on how to use the ODIN tool and perform various tasks.
Links to download ODIN (2020)-
---
Root Samsung device using ODIN-
Step 1-
First and foremost, open Settings on your Samsung device and open "About".
Step 2-
Click on build number 7 – 10 times continuously to enable Developer options.
Step 3-
Go back to settings and you will Developer options in the menu that you've enables. Open developer options and enable USB debugging and OEM unlocks.
Step 4-
By this time, you should've downloaded both USB drivers for your Samsung device and the compatible ODIN version for your device from the links given above.
Step 5-
Download the following files asked below (link provided) and follow the instructions meanwhile:
Magisk.zip All Versions
RMM Bypass is to be flashed to avoid OEM lock after the root process in the future. And, no-verity-opt-encrypt will avoid boot warnings to pop-up after rooting.
Step 6-
After downloading and following all the instructions till here, switch of your Samsung Galaxy device.
Step 7-
Boot your device into download mode by pressing the Volume Down button + Power button simultaneously.
Step 8-
You will see a warning message like the image given below. Press the Volume Up button to continue with the process.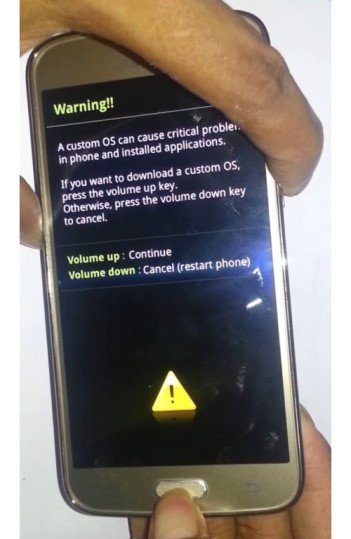 Step 9-
Now open the ODIN tool you downloaded on your PC/ computer. Connect your Samsung device with the computer with a USB cable.
Step 10-
If you have followed all the instructions properly, you will see the following message under the log section of the ODIN app- "Added". If you don't, start over again and repeat all the steps until you get this message on the screen.
Step 11-
Click on PDA or AP to get out the TWRP file from your computer and send/install it to the Samsung device.
Step 12-
Now navigate to the "Options" tab from the top-left portion of the tool and un-tick the "Auto Reboot" box.
Step 13-
Now click "Start" to begin the install and this finishes the process of rooting.
Final Flash and Boot process-
Step 1-
Boot into recovery mode by holding the Volume Up button + Power button simultaneously. This time you'll boot on TWRP recovery mode.
Step 2-
Click/ select Wipe->Advance Wipe->Select Cache Data. Return to TWRP home and select "install".
Step 3-
Click/ select forced_encryption_disabler.zip. Return to TWRP home and select "install".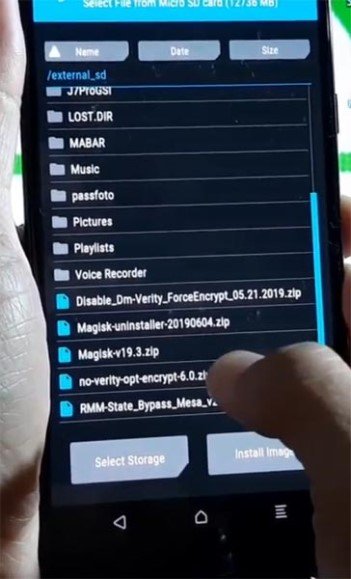 Step 4-
Follow the same process for RMM State Bypass.zip, no-verity-opt-encrypt, and Magisk installation.
Step 5-
After the installation of all the zip files one-by-one, reboot your device.
Step 6-
After rebooting, you will find Magisk in App Drawer. If you don't, repeat the process from OEM fix installation.
You can use a Root checker to see the rooting status of your device. Also, when your reboot after following all the instructions properly, you will find the Magisk app in your Samsung Galaxy device.
---
To remove/ uninstall unwanted or pre-installed apps, you can use any Root cleaner app but make sure that you achieve this cautiously, is deleting an essential OS app or the system-related file can disturb the entire functioning of your Samsung mobile.
Unroot using Magisk-
Step 1-
Launch the Magisk app. When the app opens, scroll down to find an uninstall option. Click and completely uninstall.
Step 2-
Give a few second and your device will unroot.
Step 3-
Uninstall/ delete the Magisk app and check the root status with the same root checker app.
---
So that was it, people! It is a lengthy process to root, flash and completely understand the ODIN too. But the functions and effects are extremely powerful and essential.
If you find any difficulties in following the instructions or to download the ODIN tool, feel free to reach out to us via the comment section. Rest assured, stay tuned for related articles and frequent updates. Also, share this article with all the Samsung users!