Samsung devices are famous for their outstanding performance and innovations that they bring along every year. The pioneer brand has taken the people on a ride through all the mobile devices we've ever used- Phones with buttons, keypads, touch screen smartphones and foldable smartphones too. Samsung is not only famous for their device but also their outstanding UI interface, gestures, and widgets.
Good Lock is an exclusive app that lets you customize gestures and widgets of the Samsung UI. This specialized app also brings you new features and gestures that are not available in the play store. Samsung had promised to release the latest Good Lock app in the month of February and here you are, to download the all-new Good Lock 2020 (APK).
Download Good Lock 2020 for Samsung Mobiles
Step 1-
First of all, as Samsung has suggested, delete all the related files of your old Good lock APK app.
Step 2-
Download all the listed apps for Good lock 2020 from the link given below.
Download the 2020 version of Good Lock APK
Step 3-
After downloading all the files, extract them to your storage.
Step 4-
After extracting, install each of the files like any other normal app you allow from the Play Store.
Step 5-
After following all the steps, you can customize your UI with the all-new Good Lock 2020 app.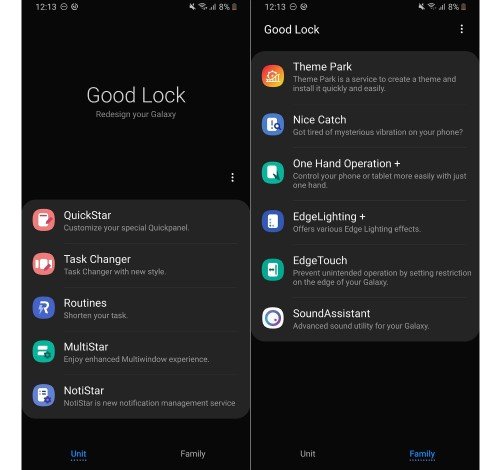 (Note: If you see a blank page after installing and opening the Good Lock 2020 APK, download Nova Launcher or Action launcher from the play store. This will help you with access to the APK via the "Activities" section.)
Also download :
Thank you for reading. Let us know in the comments if you face any problem while installing the Good Lock 2020 APK. Also, share this article with all those who were waiting for this exclusive app.
---
SEE ALSO: