Radeon is a computer graphics product that has been trending for a while on the web. AMD Radeon has dropped its latest version- 20.3.1. Users have a lot to talk about this version is the previously existing ones created a couple of heat among the users, and you'll find out why!
AMD Radeon reportedly had an issue with the audio that a lot of users complained about. An audio crackling issue has been reported with multiple videos suggesting that the developers didn't bring a solution to the issue for very long. Clips recorded of the previous version have shown audio break at multiple instances.
Gamers seem to have been taking this issue way more seriously as the audio break outstands with the recorded video. However, it has also been made clear that the issue doesn't seem to happen W10 DVR, Steamlabs OBS or Shadowplay run on the same adrenaline. What's even worse is, when the audio does seem to capture at times over the adrenaline, the static noise is a lot terrible that makes people wish for the broken audio better!
But the latest version of the adrenaline which is the AMD Radeon 20.3.1, claims to have sorted out the issue, and Redditors have filled the web with feedback and comments whether the change is for real!
AMD Radeon 20.3.1 Details-
The image given below is the official changelog of the latest Radeon. The developers have also provided details about the known issues, and clearly, users can rejoice as the errors this time seem to be under control.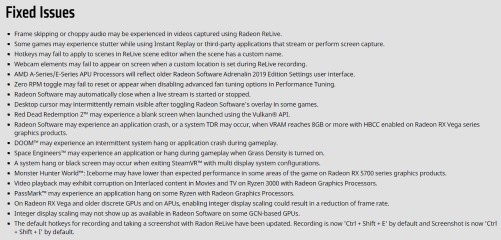 Officials have addressed the most faced issue in the very first lines-
"Frame skipping or choppy audio may be experienced in videos captured using Radeon ReLive."
Other issues like black screen while gaming and sync issues have been addressed too, but online reports state that few of those problems haven't been resolved yet. The latest version of Radeon is available for Windows 7 64-bit and Windows 10 64-bit users. Check the links below and follow the procedure.
Download AMD Radeon 20.3.1-
Click the link below, which will instantly start the download process. All the files will go to your default location, so after the download process, you'll all be equipped to rock the latest Radeon 2020 version.
---
---
Rest assured, stay tuned for related articles and updates frequently. Also, share this article with all those who were waiting for the audio glitch to be fixed in the AMD Radeon.