Bethesda's Doom Eternal, upon its release, managed to double the launch revenue of its predecessor along with the breaking of several franchise records for the opening weekend sales according to Gematsu. Being available on almost all platforms, it soon became very popular. In Oct 2020, the game was added to the Xbox game pass as well.
However, SuperData released their 2020 review report that showed the revenue generated by Doom Eternal in 2020. Here's everything you need to know.
Doom Eternal Revenue 2020- SuperData Statistics
Apart from being used as a benchmarking tool to test various setups, Doom Eternal is known for the nostalgic experience it provides of its predecessor released back in 2016. Featuring engaging and challenging gameplay with highly intense background music, Doom Eternal is nonetheless one of the best shooter games released in 2020. For more details on Doom Eternal's gameplay, visit Vice.
SuperData is a website known for providing analysis of several games. They provide data on different games and how well they are holding up in the current gaming market. They recently released theirs In Year Review Report of 2020 where they provided statistics of the Games and Interactive Media earnings in 2020.
Amongst them, Doom Eternal was placed in the 10th position in their list of top 10 premium titles of 2020 after having generated total revenue of $454M in 2020. The list also featured famous titles like COD: Modern Warfare and GTA 5.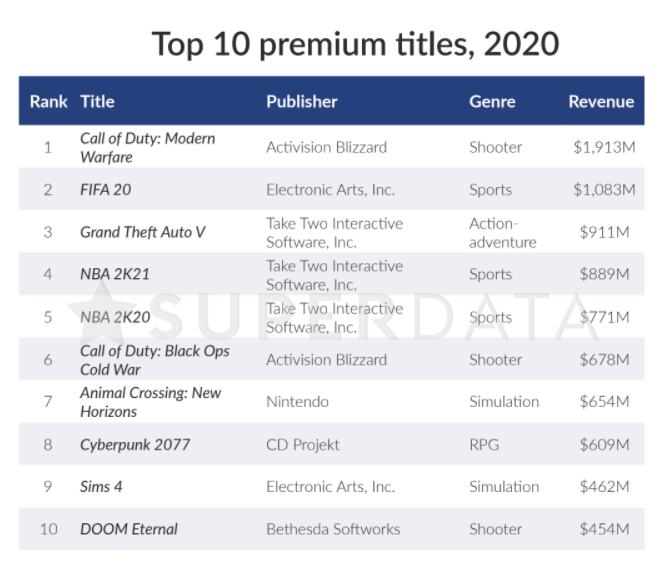 SuperData stated that Doom Eternal ranked among the highest-earning premium games and its launch sales of 3.0M were three times higher than its predecessor. Doom Eternal even surpassed its rival games from Sony, including Last of Us 2 and Ghost of Tsushima whose launch sales were 2.8M and 1.9M respectively.
With such numbers in revenue collected by the company, Doom Eternal is going to be getting new and exciting content in DLCs in the future. Also, Bethesda has been currently focusing on releasing their confirmed titles Elder Scrolls 6 and Starfield. With such revenue pouring in, the development and release of the upcoming titles will definitely be benefitted.