Many users who recently downloaded the new updated 2021 version of Windows 10 is facing some problem regarding the Checkpoint VPN Security (Version 81.10). So the problem most of the users are facing with this new version is that the program is getting stopped in between and it's creating some problem in making it run properly. The problem isn't even being solved after uninstalling and reinstalling the program, the complaints have been raised that even after trying everything, the problem still persists. Some users have tried reinstalling the program with different versions, i.e. 81.10, 82.40, 84.20, and many more, but as usual, the problem does not get solved and the reason for its stopping is an error that some permission problem related to some files (vsdata.dll, vsutil.dll, and vsinit.dll). So this article is all focused on understanding and resolving your problem with a few simple steps.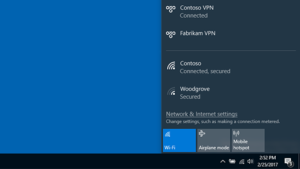 So, this problem is from the end of the Check Point, and even they have addressed this issue and devised a way to solve this problem without any hard struggle. At the time of August 2019, check Point released its previous version, E81.20 which helped in addressing the use limitation of the previous older versions, belonging to Check Point's Endpoint VPN. Now all these versions have stopped functioning from the beginning of January 1st, 2021. And this is the reason that the upgrade has failed, since from that date following a reboot of the computer, Endpoint Security Client and Remote Access VPN version E81.10 may have stopped working.
So, what the company did was, that they recently issued a small 2MB and very quick to install Patch for resolving this issue.
You can then download this patch by clicking here.
It tries to replace an existing file in the folder, named .SYS file, that delivers a fix which is already a proven itself to be safe and secure, and is already being used by the customers all across the world. But there is one thing that every one of the users should keep in their mind, read below carefully.
IMPORTANT NOTE: Make sure that you do not uninstall or even upgrade your client before applying the patch given above.
How to patch your computer and restore the VPN/Endpoint Connectivity:
Update your CheckPoint VPN/EndPoint Client Version to the latest E81.10.
Now you should clearly be able to see that the client version is either Check Point Endpoint VPN E80.81to E81.10 or Check Point End Point Security E80.81 to E81.10, now you must download your patch (from the above link) into your PC.
Select and open the file named, EPPatcher_for_users.exe to install the patch. In some of the cases, it may require a password which will be provided to you by your system administrator.
Within a few seconds, you will get a pop-up with a message saying "Fix has been successfully deployed".
One thing to take as an important is that kindly make sure to not restart your PC if your VPN connectivity is not being interrupted