The upcoming game, Voidtrain has been announced by the publishers and is keeping many game fans wait. The players who are planning to play this game when it is released and they wonder that will it be featuring the multiplayer mode or not. If you are also saving the same question in mind, continue reading this article to find out the answer.
Voidtrain is an upcoming indie adventure game developed and published by Nearga. This game will let you become a crew member of an interdimensional express. Planning to play this game? Get ready to discover a new mysterious world inhabited by amazing creatures, dangers, and surprises, upgrade your train, gather new materials, and build better weapons. As of now, this game is scheduled to be released in 2022 for Xbox One and Microsoft Windows only. Coming back to the topic, in this article, we are going to clear your doubt that will this game be featuring the multiplayer mode or not. So, here is everything you need to know about it.
Voidtrain Multiplayer Mode
There is a piece of good news for the players who would like to see a multiplayer mode in Voidtrain. This game is a single, as well as, multiplayer mode. You can play the multiplayer Co-Op mode in Voidtrain with up to 4 players. So, start selecting 3 of your other friends to play this game with. As you can see in the description in the snippet below, the developers have confirmed up to 4 players Co-Op multiplayer feature in the game.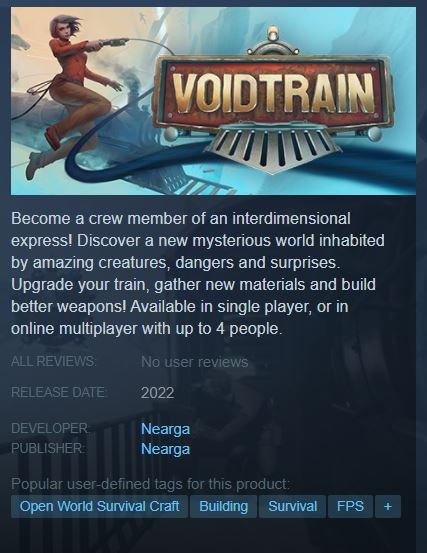 Creating, customizing, and designing trains with the help of friends will be very amazing and exciting. Also, crafting structures by collecting useful items is something that you will definitely enjoy with your friends in this game. Comment below the best part that you liked about this game. 
To add this game to your wishlist on Steam, head here.
Read More:
Enjoy Gaming!!