We have personally come to a point in time when not reporting about NVIDIA really makes our day feel incomplete. You can't blame us, it is largely owing to NVIDIA and their marketing strategies. They have been able to keep the excitement going as their new GeForce RTX 30 series that awaits its launch. This time around they have released a video that educates us about the Art and Architecture of their new Ampere based GPU generation. This news also confirms the leaks about a 12-pin power connector we brought to you via Supersonic. The major highlight is grabbed by the Cooling and Power Design employed in Ampere Founders Edition.
An insight into NVIDIA Ampere Founders Edition
With the Ampere-based GPUs, NVIDIA is ready to take a major step forward concerning their evolving colling technology. In the GeForce Ampere Founders Edition focus will be on an airflow-optimized cooling design complemented by a low profile leaf spring. This technology mainly minimizes the structural components of the cooling system while keeping the efficiency intact. The 12-pin graphics card power adapter converts a pair of 12V 8-pin PSU side connectors in a single 12 pin connector. This results in compact form and consolidated cabling. But in no way does it lack in generating ample power to fulfil the GPU needs.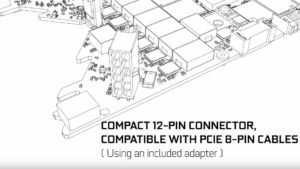 With all the buzz around and the September 1 online event just around the corner, NVIDIA has been secretive enough to not reveal any official stills of the RTX 30 line. Their promotional cum educational video though gives us enough clue about the product's wire-frame model. The new power plug is expected to add to the cost of these Ampere graphics card. For that very reason, third-party manufacturers will continue to use PCle power inputs on their custom designs. Also, find the link to NVIDIA's video on Cooling Tech and design below. Do not forget to catch the glimpses of NVIDIA Ampere Founders Edition!