As ominous as the name of the weapon sounds, Bad Juju is one of the most well-preferred plasma rifles in Destiny 2 that has an incredible rate of fire, along with other features. It was first introduced in Destiny 1 and is sort of a nostalgic weapon for longtime fans of the series and is perfectly suitable for PvP and PvE. The exotic appearance is a bonus and gives off the impression of a powerful weapon. If you're looking for a credible guide on getting Bad Juju, we've mentioned key steps that you can follow to obtain it and have fun blasting your enemies. Continue reading the article to know how to get Bad Juju in Destiny 2.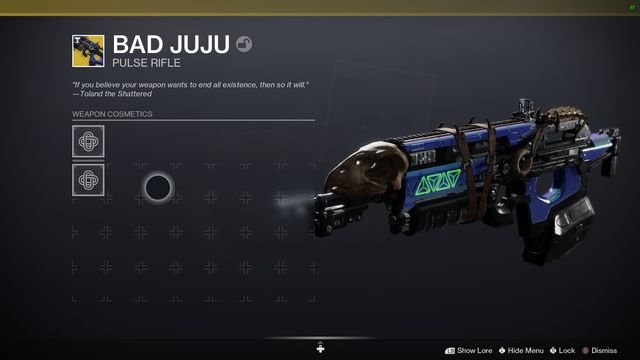 Perks of Bad Juju in Destiny 2
Bad Juju is a popular weapon that is a fully automatic rifle. It was once accessible to players as a reward item in "The Other Side" mission, and currently, it is no longer accessible to players and the original quest for Bad Juju as well. Fortunately, this weapon can still be claimed by exploring the Exotic archives. There are also various catalysts that you can apply to enhance the sheer power of the rifle to decimate enemies at a faster pace. Now that you're informed about the plasma rifle, the question is how you can get your hands on it? We've explained that below so keep reading further.
How to get the plasma rifle in the game?
Bad Juju weapon can be obtained in the game by heading to the Monument to Lost Lights and exploring the tower where the exotic archives kiosk resides. You'll also have the liberty of getting more exotic weapons aside from Bad Juju as long as you have enough Glimmer and resources stored in your inventory. Players who didn't log in since the expansion vaulted might have a few Forsaken coins lying around that they can use to buy this weapon, if not, see another step below.
Similar to Ace of Spades, you'll need to have the following materials in your possession to acquire it.
200 Microphasic Datalattice
1 Ascendant Shard
1 Exotic Cipher
125,000 Glimmer
Once you've gathered all of the abovementioned materials, head straight over to the Forsaken Exotics section in the Monument to Lost Lights. Once you get there, calculate the nine spots from the left and you'll eventually come across Bad Juju and can easily buy it from there.
We hope that you enjoyed reading this article, stay tuned for more updates at Digistatement.