The most recent expansion of Destiny 2, The Witch Queen introduced many new features for players, including the weapon crafting system that is a game-changer. Ascendant Alloy is one of the crafting materials that are the perfect opposite to Ascendant Shards which are intended to enhance the traits of the player's favorite gear and is one of the rare materials in itself and is difficult to get a hold of unless the person who's farming for it knows where to look. If you're planning on securing Ascendant Alloy to upgrade your gear and don't know where to start, this guide will be helpful in your quest to get one. Continue reading the article to know how to get Ascendant Alloy in Destiny 2.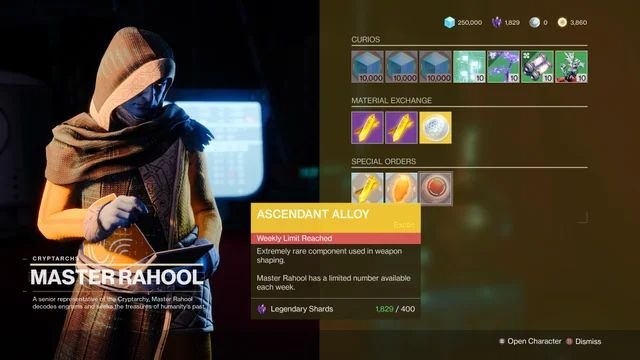 What is Ascendant Alloy in Destiny 2
Ascendant Alloy is the material that acts like a catalyst for shaping and reshaping weapons as well as upgrading the traits of the weapons. Like its brother, Ascendant Shards, there are multiple ways that you can opt to obtain Ascendant Alloy in the game and we have listed plenty of methods that a new or veteran player can easily follow to get them. With that being said, check out some of the ways that you can earn Ascendant Alloy below.
How to earn Ascendant Alloy in the game?
Complete Witch Queen weekly campaign missions
Once you've finished with the investigation at the Enclave, you'll unlock the Witch Queen weekly playlist where you can undertake campaign missions for rewards. Ascendant Alloy is one of the items that you'll get as a reward and the chances of getting it varies, depending on the difficulty. The probability of getting Ascendant Alloy depends entirely on the player's luck.
Master Rahool
Master Rahool is the cryptarch of the tower that owns plenty of items to sell, including Ascendant Alloy every week for 400 Legendary Shards. Make sure that you only buy Ascendant Alloy from Master Rahool if you're really running low on them as if you have a maximum number of Ascendant Alloy already in your inventory, you won't be able to purchase any from him.
Nightmare Containment
Out of all the two methods above that has a fair chance of getting Ascendant Alloy, Nightmare Containment has the least chance of dropping the material after completing a T3 run. Although the odds are low and there's no way of increasing the odds of drop rate, there is a chance of farming Ascendant Alloy through this activity.
We hope that you enjoyed reading this article, stay tuned for more updates about Destiny 2 guides, news, and more at Digistatement.