Dead by Daylight is a massively popular 5-player isometric multiplayer horror video game released by Behavior Interactive in 2016. It is available on multiple platforms including PC, Xbox, PlayStation, Nintendo Switch, Google Stadia, iOS and Android.
Dead by Daylight has a massive player base and it is still one of the most popular multiplayer games to play today. The developers are actively creating excitement for players by releasing new events and crossovers featuring horror icons from various movies, TV shows and other game franchises.
Multiplayer in Dead by Daylight
Dead by Daylight is a 5-player isometric multiplayer game, which means that it is a 4vs1 multiplayer game where one player plays as one of the various horror villains featured in the game. Each one of the villains comes with various attributes and skills providing a massive advantage over the other four players. The one player then must play against the other four players on a given map. He must hunt them down before they can complete their objectives and escape from him to win the game.
Therefore, it is very important for the four players in the game to co-operate, plan and work together to escape death and win the game.
Voice Chat in Dead by Daylight
Dead by Daylight is a horror game that capitalizes on the player's fear and dread. Coming to the topic, the game does not feature voice chat currently. The only chat that is available right now is the chat in the lobby of the game. This allows the players to try and co-operate with one another without any chat or communication making the game even more challenging and intense.
This feature of the game has thus been confirmed by the developers and they have doubled down on the fact that there are no plans to feature voice chat in the game. This can be seen on their reply to a fan question on Dead by Daylight twitter: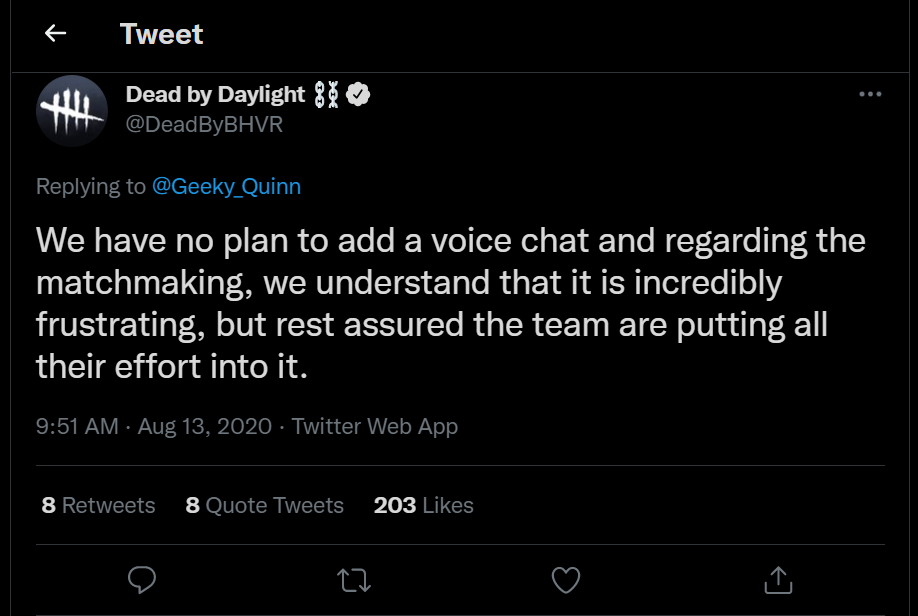 How to chat in Dead by Daylight?
If you want to chat in multiplayer with other players. Then, the only workaround is to use voice chat platforms like discord. This may not be the best option but it is the only option available for now.