Many players love to install mods to their games to have a better gaming experience with tweaked characters, songs, settings, etc. Dead by Daylight has also witnessed a new Tokyo Ghoul Mod. If you would also like to know more about this mod or install it, continue reading this article till the end to find out everything.
Dead by Daylight is the 2016 asymmetrical survival horror game developed and published by Behavior Interactive. This game revolves around 1V4: Killer VS Survivors multiplayer gameplay in which the killer has to kill the survivors and the Survivors have to escape the map while defending themselves from the killer. Currently, this game is available to play on almost every popular gaming platform that includes Microsoft Windows, PlayStation 4, Xbox One, Nintendo Switch, Android, iOS, Stadia, PlayStation 5, and Xbox Series X|S. Coming back to the topic, here is everything you need to know about the DBD Tokyo Ghoul Mod.
DBD Tokyo Ghoul Mod
The DBD Tokyo Ghoul Mod replaces the head of the Feng Min character in the game. As the name of this mod implicates, this mod is inspired by the popular anime series, Tokyo Ghoul. To be more specific about the head replacement of this mod, you can refer to the image attached below.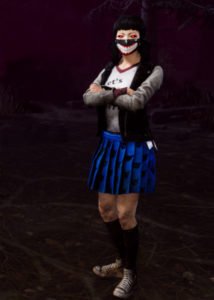 As you can see in the image above, this replaced head from Tokyo Ghoul Mod looks as sparky and rebellious as it was before (even better). You might also face certain issues after installing this mod with the character's face. If you encounter such issue, you can uninstall this mod. Head to the Download Section below to download this mod.
Download Link
There is not any particular procedure to install this mod. Just install this mod as you might install any other mod.
Download Dead By Daylight Tokyo Ghoul Mod by gamebanana.com: Download
Mod Credit: TheMothQueen
Read More:
Enjoy Gaming!!