Days gone. An open world survival game that has captured the imagination of the gaming world with its amazing graphics and on-point gameplay. Fans are now eagerly awaiting the arrival of a DLC for the game. When will it be out? To know more, read on…
For the first-timers out there, Days Gone is a 2019 action-adventure survival horror video game developed by Bend Studio and published by Sony Interactive Entertainment for the PlayStation 4 and Microsoft Windows. To be more specific, it has been released for PS4 on 26th April 2019 and it is scheduled to release for Windows in the second quarter of 2021. Set in a post-apocalyptic Oregon two years after the start of a global pandemic, former outlaw-turned-drifter Deacon St. John discovers the possibility of his wife Sarah still being alive, which leads Deacon on a quest to find her. Days Gone is played from a third-person perspective, in which the player can explore an open world environment.
Days gone was extremely well received upon its release and has gathered a large fanbase and an even larger repute for itself in the open world genre.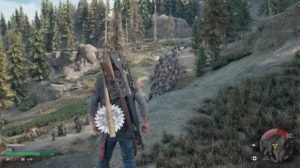 The first DLC for days gone was rolled out in June 2019, which featured a survival mode update. The fans of the game have since awaited another DLC, which was neither hinted at nor announced by the developers. Although, recent announcements made by the devs state that they are keen on preparing the game's release for Windows which is scheduled for the second quarter of 2021. As of now, we can only engage in speculations but it is not an exaggeration to expect that the devs are going to roll out a new DLC with the game's windows release, as a surprise for the fans.
If not now, then definitely at some point in the future, a DLC for the game will be released. All we can do is wait, be patient and support the devs.
Happy Gaming!!!.