Critical Ops is a multiplayer first-person shooter video game developed and published by Critical Force. It was released to Open Alpha in September 2015 for Google Play and had been in beta until the full version was released in November 2018.
The wait is over, the dev team of Critical Ops finally brings the all-new update. The new update carries version 1.15 and it's live on Android and iOS platforms. The new update brings the new season update for the game. Critical Ops Season 13 is finally live now, and with the update, developers bring several game improvements too.
---
---
Talking about the new update, the new patch will bring some new features, while improving the in-game features. Critical Ops update 1.15.0 will bring the new Victory Screen. Victory Screen is nothing but the screen which appears after matchmaking completes. It shows stats like the number of kills for each player and their names too. It also showcases the MVP (or man of the match) with a batch over it.
Now, coming to the new Critical Pass. The Critical Pass Season 13 starts today and will be available until May 3. Season 13 brings a total of 30 tiers, which include skins such as the Uratio Oiseau and many more. You can the details for all the Critical Pass rewards below.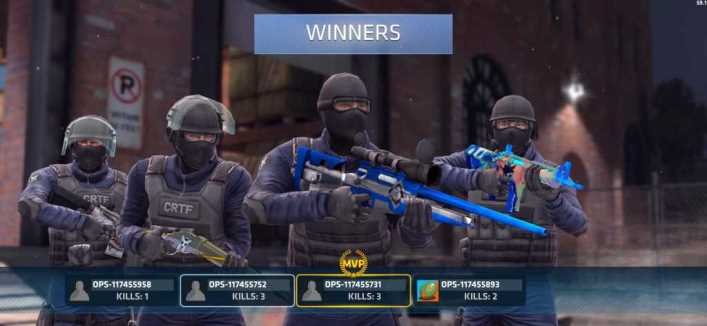 Critical Ops Season 13 Critical Pass Rewards –
Elite Tier
SG551-Verdict
Peek – Emblem
Credits
T5 Case
M14-Verdict
Dobermann – Emblem
Credits
StandardCase
FP6-Verdict
Xiezhi – Emblem
Credits
StandardCase
Vector-Souzi
Fedora – Emblem
Credits
StandardCase
Deagle-Souzi
Credits
Blazing Ox – Emblem
StandardCase
M4-Souzi
Credits
T3 Case
T3 Case
P90-Oiseau
T4 Case
T4 Case
MR96-Oiseau
T5 Case
URatio-Oiseau
Free Tier
Credits 100
Cherry pie – Emblem
Credits 100
Play with Fire – Emblem
Bottled Bolt – Emblem
Premium Case