Oppo has successfully become one of the fastest-growing brands in the smartphone industry. Oppo brings some of the most beautiful devices with powerful specs at a very attractive price point. These devices are known to offer great value for money to its users. While Oppo started off with mid-range selfie-centric devices, now the brand is all into delivering breathtaking flagships. While the specs and value for money always are a plus point for Oppo devices, they kind of lacked somehow in the software department. Yes, ColorOS is not really loved by many users to be honest. Oppo devices run on ColorOS which is a Custom OS made by Oppo.
Well, recently Oppo seems to have understood the problem and is currently working to provide a better OS. Oppo kind of actually did that with the ColorOS 7. Oppo has been rolling out the latest ColorOS 7 to some of its devices recently. This update brings with it Android 10 to these devices. While many of the Oppo devices have still not received the ColorOS 7 update, here we are looking at all those speculated devices which would receive the ColorOS 8. Yes, you heard it right. Oppo is all set to release its latest iteration of ColorOS 8. So, what changes will the latest OS update bring? What new features will we get to see? Most importantly, which devices will receive the update?
ColorOS 8:
While ColorOS is not really liked by many users, it actually comes with a bunch of useful features. ColorOS 7 also took it to a new level and made things better for Oppo. It also brought some good UI changes. The whole internet has been speculating about all those amazing features ColorOS 8 would bring with it. ColorOS 8 will bring home the upcoming Android 11 to Oppo devices. ColorOS 7 brought a ton of new and awesome features. Keeping that in mind, we can be assured that the latest iteration would obviously come with yet more amazing features and improvements. Here are some of the most exciting features that we will get to see in the upcoming OS:
Enhanced Dark Mode:
The feature already exists in ColorOS 6 and 7. However, the feature was not that good and it was not a system-wide dark mode. We will see a better and improved Dark Mode feature. This will be tuned to bring a system-wide overall dark Mode. We have already seen Dark Mode before in Oppo devices which were not tuned for all the system and third-party apps. ColorOS 8 fixes that and brings out a much more enhanced and dynamic system-wide Dark-Mode that looks stunning.
Dark Mode Schedule:
Well, talking about the trending Dark Mode feature, many devices now come with the option to schedule the Dark Mode. Many OEMs have rolled out this feature to its devices with their latest updates. Oppo devices exactly missed this feature. ColorOS 8 lets you easily schedule the timings to automatically toggle between the Dark Mode and the normal Light Mode. This feature comes in handy as we can set the timings according to our preferences for Dark Mode.
"Columbus"- Double-Click Back Gestures:
This is a pretty amazing feature that comes with the latest Android 11. Now, you can use gestures not only on the screen but also on the back on the device. Well, that sounds pretty interesting. What's even more interesting is that this feature requires no new hardware or sensors. This feature is called "Columbus". With the use of the already existing accelerometer and gyroscope sensor, the device determines the double-click at the back. This is a pretty exciting and completely new feature that will be seen for the first time in any device.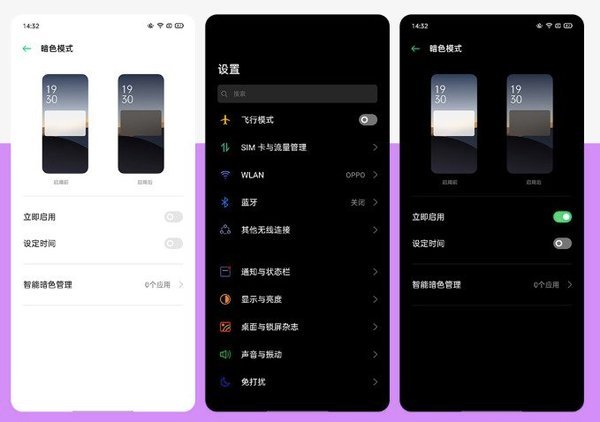 Tweaking Back Gestures:
Well, we will also see a lot of options to successfully tweak the back gestures on double-clicking. There were some issues in the earlier versions of ColorOS 6 and 7, while using the gestures, which led to the accidental triggering of some apps and menus. ColorOS 8 fixes that by introducing sliders on both sides of the screen to adjust the sensitivity of the back gestures according to our comfort. This prevents all those accidental touches.
Better Battery Optimization:
Users who updated their device to the latest ColorOS 7 reported facing several battery drain issues. Oppo has packed ColorOS 8 with tons of optimizations and tweaks to enhance the battery life. This should also fix the battery draining issues. Users should see a significant increase in battery performance after the update and no more battery drain issues.
One Time Permissions:
Permissions are asked by pretty much every app or service to run and use the device's hardware. Earlier, there was this option to enable any permission for a particular app only when the app was running. Now, with the latest ColorOS 8, we will also get to see an option to allow these permissions like location and others only for a single time. This might not seem so but is a great feature that will come in handy.
So, these were some of the pretty amazing features we will get to see with the upcoming ColorOS 8. This was just a tiny list among tons of other exciting features. ColorOS 8 will definitely be a major update to Oppo devices and improve the performance and looks even further.
---
---
ColorOS 8 Release Date:
Well, we know you have been eagerly waiting for the ColorOS 8. Oppo is yet to roll out the ColorOS 7 updates to a lot of its remaining devices. This makes it pretty certain that the ColorOS 8 will not be coming anytime soon to devices. Keeping in mind the present scenario of crisis arising due to the COVID-19 pandemic and analyzing the previous trends by Oppo, we expect that the final and stable build of the ColorOS 8 update would start rolling by the end of late 2020 or the beginning of early 2021. However, there are no official updates about the release dates as of now. So, things might also change according to further situations in the future.
---
Stay tuned for more updates about further developments about ColorOS 8. Also, share this article with all those people who had been wondering about the latest ColorOS 8 and waiting for this update.