It all seems like yesterday when we flooded site and web with tons of information about Android 10. But looking back, the Android 11 news has taken over the internet and its impossible for us to not take part in the run- We finally have the official details about Android 11 that'll totally prepare you for the update. Gear yourselves as you have no idea how big the changes and new features are in comparison with what we expected previously!
This article has been ordered by release date first, features of Android 11 next and finally the most awaited roadmap of Android 11- smartphones that are eligible to rock the upcoming Android OS. Officials have declared that the upcoming Android version will be named numerically, hence Android 11 is the final name referring to the successor OS version of Android 10.
Android 11 Release Date-
First and foremost, the official launch of Android 11 with the bits of details yet to be revealed will be an online event conducted by Google. The life-threatening COVID-19 has led Google to cancel the on-ground event of the Android 11 launch that was to be held on the 12th of May 2020. And the big reveal, the stable version of Android 11 will start rolling out for eligible devices in the month of October 2020. Check the official timeline provided below.

| | |
| --- | --- |
| ANDROID 11 BUILDS | RELEASE DATES |
| Developer Preview 1 | February 2020 |
| Developer Preview 2 | March 2020 |
| Developer Preview 3 | April 2020 |
| Beta 1 | May 2020 |
| Beta 2 | June 2020 |
| Beta 3 | Q3 2020 (July – September) |
| Final build | Q3 2020 (October) |
The online event of the official launch will still take place on the same date as the ground event, May 12, 2020. We can expect the stable version to first roll-out for Google Pixel. It was OnePlus mobiles last time, but a lot has changed for a year, as we've gotten to see the recent software updates to first appear on Google Pixel devices.
Android 11 Features-
We finally have received the official list of Android 11 features and has been extremely impressive at the very first sight. We would first cover all the previously predicted and confirmed features that we mentioned in our older article and gradually slip into the new details.
The scoped storage feature has been confirmed, which we will finally get to see in Android 11. Scoped storage is a feature that will allow/ restrict apps to access only a part of the file-system. This feature is to protect the privacy and security of the user, but the final implementation of scoped storage is still under the working process.
---
Software update without dark mode improvement is next to impossible in the present world of tech. Android 11 will provide dark mode scheduling that will help us organize the dark mode to switch automatically without the need for users to look up to the settings and manually strain themselves every night/ morning! The enhanced dark mode is the response from Google to all the minor improvements that step-by-step was put into test since a couple of updates.
---
     Touch sensitivity and gestures improved-
Gestures related to going back from an app or more will see a lot of improvements as Android 20 received a lot of complaints regarding the back sensors when operated by gestures. And talking about touch sensitivity as a whole, Android 11 has confirmed that massive improvements will take place in sensitivity as well as screen-refresh rates.
---
Reverse charging was a feature spotted Google Pixel long ago. This feature will allow users to share battery backup with other devices (applicable only to Google Pixel devices currently). Check the link below to read our full-fledged article on reverse charging on Pixel devices.
---
---
     Silence notifications while recording-
Being pinged, nudged or notified during the time of recording a video/ audio is the most annoying yet hilarious situation to be a part of. Imagine re-watching a beautiful video that you share a pleasant memory with but terribly be interrupted by a notification that popped up out of nowhere during the time of recording. Well, its high time now as Android 11 has decided to help us avoid such awkward moments by providing the feature that will silence notification while the user is recording.
---
The probability of today's generation people dedicating time towards texting for a long-term is equivalent to null! But Android 1 has confirmed to provided Chat Bubble feature which a lot of social media apps provided ages ago. But fair enough, as the present period demands the necessity for the Chat bubble a lot more than any time in the past. The features have been successful enough in drawing the attention of OEMs and Android to consider it.
---
     In-built screen recorder-
Installing external and third-party apps are only becoming a pain gradually, especially while dealing with ads and subscription features that the external apps demand. Screen recorder being widely used, Android 11 will provide a native/ in-built screen recorder that the users can equip with ease. The internal audio recording features haven't been confirmed its availability in the in-built screen recorder, but we can still hope for it.
---
     Airplane mode will not turn off Bluetooth-
This feature is probably the most favorite and expected feature among fans and developers too. With the features that Bluetooth supports in the modern-day like wireless speaker and headphone, airplane mode was a barrier to the outstanding uses of Bluetooth. But finally, Android 11 remove the power airplane mode had to turn off Bluetooth!
---
Android 11 will finally help us click the so-called infinite screenshot that extremely excites the users about it. We can store and capture endlessly long data or desired content as still term them as a screenshot!
---
The pain of allowing an app to access a certain function of our device and later looking upon the setting menu for minutes together to disable is worth a correcting. But as you read this, Android 11 has already made a step as we will be able to allow one-time permission for apps while they are used, like permitting Instagram to open Camera for "once".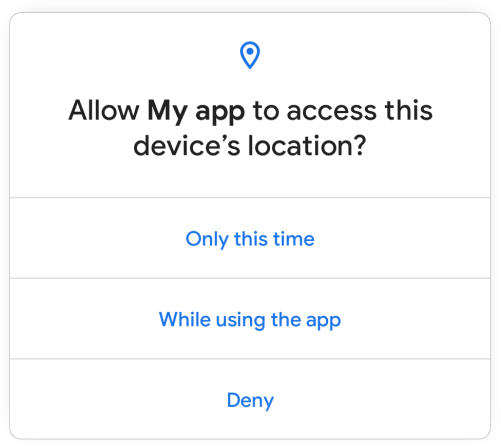 ---
You've all had that one moment where you've accidentally swiped off a notification but still took a glance at the content part, and now you want to view that content completely. Android 11 will bring a completely new function called the Notifications history which will help us view the list of all the notifications that our device received.
---
     Better software support for curved display-
Curved display smartphone users have been a victim to have experienced decisions their mobiles take due to accidental touches on the edges. Though this issue can be sorted out just by being a lot more conspicuous, it is commendable that Android 11 will pay dedicated attention to curved display devices and provide better functioning and support for such smartphones.
---
     Motion controls (for specific devices)-
Google Pixel phone users will be experiencing motion controls with better and easily functional features (compatibility starting from Pixel 4). Basically, you lucky folks can interact with apps without touching them. Android 11 is still not completely compatible with this feature, but the developers are working on it.
---
     Project mainline enhancements-
The importance of this device will only be experienced with the use of it in real-time. Android 11 update will bring a function where users will be able to download parts of Android updates from the Play Store itself. There are not many details regarding what kind of updates can be obtained from the store, but we will update more information as the first beta version of Android 11 rolls-out.
---
A feature that was available in previous Android versions, Android 11 will provide the support that will automatically pin frequently used apps in the share menu.
---
Android 11 eligible Smartphones:
Most of you are about to keenly scroll through the dozens of device names mentioned below to find out if your device will rock the Android 11 by 2021. We are more than happy to present to you the list of devices that will be eligible to receive the Android 11 update from October 2020 (expected).
---
Pixel 4/ 4 XL
Pixel 3/ 3 XL
Pixel 3a/ 3a XL
Pixel 2/2 X
---
Redmi K20/ K20 Pro
Mi 9T/ 9T Pro
Redmi Note 7/ 7s/ 7 Pro
Redmi Note 8/ 8 Pro
Mi Mix 2/ Mix 3
Redmi 7A/ 8A
Mi Max 2/ 3
Mi 9 Pro/ 8 Pro
Redmi 7/ 8
Mi Mix Alpha
Redmi Y3/ Y2
---
Must See :
---
Huawei P30/ P30 Pro/ P30 Lite
Huawei Miamang 7
Huawei P30/P30 Pro
Huawei Mate 20/ Mate 20 Pro/ Mate 20X/ Mate 20 RS Porsche Edition
Huawei Mate 10/ Mate 10 Pro/ Mate 10 Lite
Huawei Enjoy 9S
Huawei Miamang 8
Huawei Enjoy 10 Plus
Huawei Mate 20/ Mate 20 Pro/ Mate 20X/ Mate 20 RS Porsche Edition
Huawei P20/ P20 Pro
Huawei P Smart 2019
---
Honor 9X/ 9X Pro
Honor V20/ View 20
Honor 20/ 20 Pro
Honor 10 Youth Edition
Honor Magic 2
Honor 20i
Honor Nova 5 Pro
Honor Nova 4
Honor Nova 4e
Honor 10/ V10
Honor 8X
Huawei Y9 Prime 2019
---
OnePlus 5/ 5T
OnePlus 6/ 6T
OnePlus 7/ 7 Pro
OnePlus 7T/ OnePlus 7T Pro
MUST-SEE: OxygenOS 11: Features, Release Date (Eligible devices to get Android 11 (OxygenOS 11) Update)
---
Realme 3/ 3 Pro
Realme 5/ 5 Pro
Realme X
Realme X2 Pro
Realme XT
Realme 3i
Realme 2 Pro
---
Oppo Reno
Oppo Reno 10x Zoom
Oppo Find X
Oppo Reno 2
Oppo Reno 2F
Oppo Reno 2Z
Oppo RX17 Pro
Oppo R17 Pro
---
Vivo Nex S/ Nex A
Vivo X27
Vivo V15/ V15 Pro
Vivo iQOO
Vivo NEX Dual Display
---
Nokia 8.1
Nokia 9 PureView
Nokia 7.1
Nokia 7 Plus
Nokia 6.1/ 6.1 Plus
Nokia 2.2
Nokia 8 Sirocco
Nokia 5.1 Plus
Nokia 1 Plus
Nokia 5.1
Nokia 3.1
Nokia 2.1
Nokia 1
Nokia 4.2
Nokia 3.2
Nokia 3.1
---
Asus ZenFone 6/ Asus 6Z
Asus ZenFone 5/ 5Z
Asus ZenFone Max Pro (M1/M2)
Asus ZenFone Max (M1/M2)
Asus ROG Phone
Asus ROG Phone 2
---
Sony
Sony Xperia XZ3
Sony Xperia 1
Sony Xperia 10/ 10 Plus
Sony Xperia XZ2/ XZ2 Compact/ XZ2 Premium
---
Samsung Galaxy Note 10/ 10+/ 10+ 5G
Samsung Galaxy S10/ S10 Plus/ S10e/ S10 5G
Samsung Galaxy A10/ A10s/ A10e
Samsung Galaxy J6 and J6+
Samsung Galaxy J8
Samsung Galaxy On6
Samsung Galaxy M20
Samsung Galaxy A50/ A50s
Samsung Galaxy A30/ A30s
Samsung Galaxy A90/ A90 5G
Samsung Galaxy M10/M10s
Samsung Galaxy S9/ S9+
Samsung Galaxy Note 9
Samsung Galaxy A9 2018
Samsung Galaxy A8s/ A8 Star
Samsung Galaxy A7 2018
Samsung Galaxy A6/ A6 Plus/ A6s
---
Moto Z3/ Z3 Play
Motorola One Vision
Motorola One Action
Motorola One Action
Moto One
Moto One Power
Moto G7/ G7 Plus
Moto G7
Moto G7 Play
---
LG G8 ThinQ
LG V50 ThinQ
LG V40 ThinQ
LG Q60
LG K50
LG K40
LG V35 ThinQ
LG V30S ThinQ
LG G7 ThinQ
LG G7 One
---
Essential
---
We hope you found this article essential to completely understand Android 11 and the spectacular details they'll bring along. We will update the article if we receive further details of anything related to Android 11, so stay tuned. Also, share this article with all those who are waiting for this update!