Xiaomi announced MIUI 12 back in May 2020, just six months after the introduction of MIUI 12. The update first went live in China and was scheduled later for the rest of the world. Despite it being just six months since the release of MIUI 11, Xiaomi was still able to stuff MIUI 12 chock-full of new features.
MIUI 12 focused on visual enhancements and privacy upgrades. It has smoother animations, modernised visual elements and a UI that feels more coherent overall. Dark Mode has also received improvements and now just works better. Settings has been cleaned up and there is a new system font. There is a new focus mode and the file manager has also received improvements. Privacy and security have also received a boost. Users now get more granular control and information over the permissions their apps ask for.
Now, the thing about updates is, we expect them to bring new features and not take the features already present; they are supposed to bring useful additions. So, it was a bit of a surprise when the MIUI 12 build which was released Poco F1 users who were a part of the Mi Pilot Program didn't contain the call recording or face unlock feature.
Now both of these features are extremely handy to have. We all need a call recorder sometimes, and having one built-in is so much better than downloading an ad-infested version from the Play Store. Even Face Unlock (even though it might be not as secure as FaceID on the iPhone), is fast and secure enough for the most of us.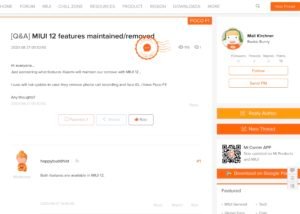 But luckily, a mod on the Mi Community Forums has confirmed that both of these features will be available in the stable MIUI 12 build for the Poco F1.