FaZe Dirty was able to open the mysterious Vault Door bunkers which were available in Verdansk. More information in this article.
Following the 1.21 update for Warzone, new content has come into play and detail was not present in the patch notes: bunkers can now open!
YOOO YOU CAN OPEN THE VAULT (with key card) #Warzone pic.twitter.com/RPK17F7JfH

— FaZe Dirty (@FaZeDirty) May 19, 2020
A few weeks ago, mysterious red access cards seemed to say that they were the key to these vault doors/bunkers. However, no one had managed to open them until today. Thanks to a clip from FaZe Dirty on Warzone, we can see him open the bunker and enjoy a wide choice of legendary and common supply chest. This bunker system strongly resembles that of Apex Legends, offering epic and legendary weapons.
Users have also found telephones inside the new bunker which might be used for some challenge or objective later on. The telephone rings and some Russians speak in morse code.
The voice translates to:
"All forces, the base is captured! Change the encryption!" "Right away!" "Roger." "…They're getting closer!"
Besides, other players have found sound effects that they had not found so far:
Barking wolves
Strange voice transformations spreading rumours of a zombie mode on Warzone
Phones ringing in different places with someone on the phone
Enough about Vault doors here are Armor Boxes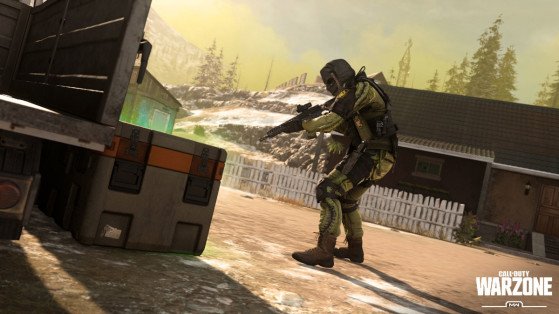 Activision added a new item in Warzone, the armor box, which will be of great use in the Battle Royale.
In Warzone, the armor box makes its appearance following the update 1.21 of season 3. Just like the ammo box which allows players to reload their ammunition, this one allows reloading all the stocks of for a whole team. Even if you have an armor bag, it will be recharged up to 8 armor plates. It is an object which finds all its usefulness at the end of the game, when the zones are generally all looted and when the crisis is felt on the armor plates. This is another alternative to save dollars in the buying station for the purchase of armor plates individually.
Where to find an armor box?
Just like ammunition boxes, it is possible to find this object in the 4 corners of Verdansk:
Ground drop
On an enemy
In the shopping station for $ 6000
Supply Chest
Season 4 of Modern Warfare and Warzone seems to predict a lot of surprises during the month of June. No official information has been given by Activision, so we must remain patient in order to know what the future has in store.