Users love to have a device of their own for various reasons. Privacy being the most important one; everyone loves to customize their devices, they want them the way and personalize the appearance; therefore, attempting to reflect your mood, personality, likes, and more. Windows OS has always given the space for its users to customize the appearance. But most of what you can do is change the wallpapers or use third-party themes to enhance the looks. For those unsatisfied, this is the right article for you.
Rainmeter is a free desktop customization program, and its functions are self-explanatory. But if you ask what it does more than just changing images and colors, Rainmeter provides desktop wallpapers that show a lot more than just images. You can find useful information on the screen like a clock, network stats, processor usage, and completely change the way a PC could look, and hence, we have brought to you some of the best Rainmeter skins with their samples.
---
Note:
You need to have Rainmeter installed in your device to enable any of the below themes. Click the button below to be redirected to the page from where you can install Rainmeter.
---
Best Rainmeter Skins 2020:
Appearance: Creates a dock-like MacOS. Internet connection will enhance one of the features of this skin.
Features: Date, Time, Weather widgets, active updates of motivational quotes (changes frequently when the internet is available).
Link: DOWNLOAD AGEO
---
Appearance: Customizable and equips add-ons based on users need. Supports plug-ins while containing a light theme. Very minimalistic.
Features: Widgets, weather, clock, live music (need to integrate Spotify)
Link: DOWNLOAD MOND
---
Appearance: Futuristic, blue, graph-based
Features: Depends completely on graphs that can be set for RAM, network, hard disk drive related details, and system overview. The skin can also display notepad, RSS reader, weather radar map, and shutdown control.
Link: DOWNLOAD BLUEVISION
---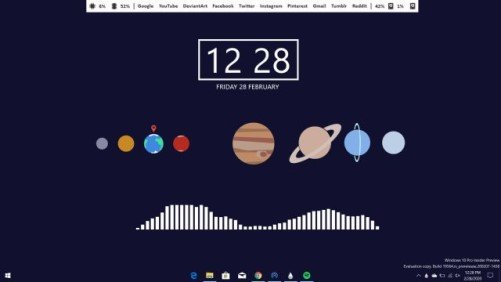 Appearance: Customizable, switch between websites within seconds.
Features: customizable hyperlinks, Spotify visualizer, and lastly the date and time widget.
Link: DOWNLOAD FLHUD
---
Appearance: Makes PC look like Android interface, highly recommended for touch screen laptops, and aesthetic looks.
Features: launcher, quick settings toggle, music controls – everything available on the home screen.
Link: DOWNLOAD MODERATE
---
Appearance: Inspired from the game; hence suitable for fans of "mass effect" game, science fiction-based, complex, and re-arrangeable.
Features: Elements like CPU monitor, media playback, hard disk data, and network statistics graphs. Custom date and time widgets.
Link: DOWNLOAD MASS EFFECT
---
Appearance: A lot of gaming-related elements; therefore the perfect choice for gamers. Simple looks with minimal widgets. Additionally, the skin comes with an integrated wallpaper.
Features:  CPU, RAM and storage widget with a date-time widget on top. Also, you can integrate your Steam account to instantly open and launch games. Features Xbox game bar to instantly launch gaming tools and functions.
Link: DOWNLOAD THE GEMINI SUITE
---
Iron Man's Jarvis-themed desktop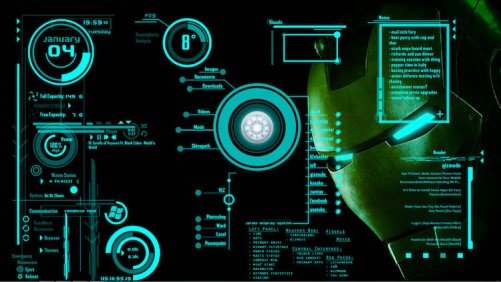 Appearance: The best skin for Iron Man and Marvel Fans. The appearance is built in such a way that it looks like the inner interface of Iron Man's suit. Loaded with multiple elements to make it look closest to the cinema.
Features: It displays hard disk capacity, CPU temperature, system folder shortcuts, and RSS feeds. Developers have tried to make this skin as user-friendly as possible. Hence, all the elements are completely customizable.
Link: DOWNLOAD JARVIS
---
Appearance: Futuristic yet minimal. Complex and, therefore, for users who regularly keep a check on hardware information.
Features: known for displaying CPU usage, RAM utilization, as well as Time & date. Also, rock a unique feature of displaying shortcuts of folders on the lock screen.
Link: DOWNLOAD TECH-A
---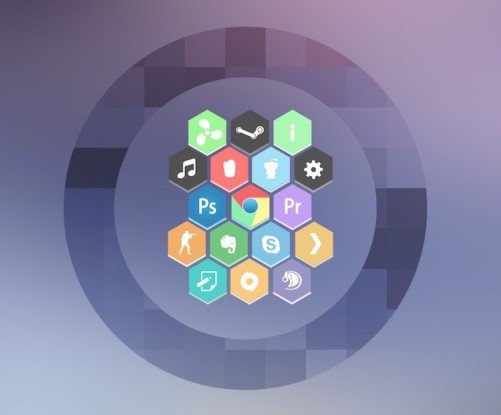 Appearance: This is one of the best looking and most organized Rainmeter skin. Each element is displayed in a hexagonal box as a result of which the skin comes across as a honeycomb.
Features: This skin features the following elements/ widgets- like photoshop, plex, setting, chrome, Evernote, and even website links
Link: DOWNLOAD HONEY COMB
---
Appearance: Lim!t (Limit) is the simplest of skins available online. While appearance has been considered over anything else, this skin increases the text and font values to fill up the desktop.
Features: Lim!t blows up and enhances Time, CPU temperature, and weather information, meanwhile focussing on displaying them in the most elegant way possible. You can manually scale down/ up every element of this skin.
Link: DOWNLOAD LIM!T
---
Appearance: It is the most organized and well-built Rainmeter skin. Every information that the skin features as an element is displayed in the most easily readable way. A Light themed skin.
Features: Aliens portrays Disk partition shortcuts, Power status, Network upload/download speeds, and System time-date.
Link: DOWNLOAD ALIENS
---
Appearance: A library of skins. Best suitable for those who use natural wallpapers. It also looks best with wallpapers which have more details on the center because the elements/ widgets of all the skins under Enigma align on the sides.
Features: Consists of 7 different skins and over 100 customizations. It also provides the facility to alter sidebars and taskbars.
Link: DOWNLOAD ENIGMA
---
Appearance: Displays widgets in modular and sub-modular blocks. Shapes are altered according to the content in it, therefore rocking the most appealing look possible. The modular blocks can be arranged/ re-arranged according to the users' desires.
Features: Displays data such as System folder and drive shortcuts, Media controls, RSS feeds, Time & Date, and Current weather.
Link: DOWNLOAD EKER LINA
---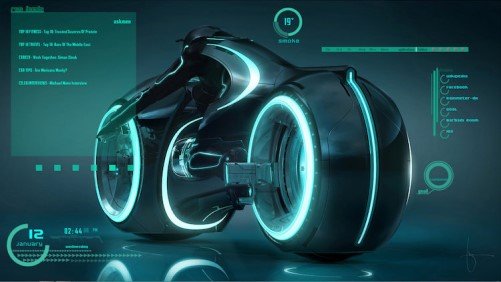 Appearance: 
The color Cyan/ Blue is certainly the most evident feature about this skin, especially due to its integrated wallpapers it comes with. The best choice for those who like to access as many files/ links as possible within a click.
Features: Most noteworthy is how this skin allows users to put up to 6 website URLs for quick access. Also, you get minimalist launcher for up to 6 of your selected applications and 6 selected folders. Similarly, you get RSS reader for 6 different feeds, weather, Gmail notifier, Time and date as well.
Link: DOWNLOAD LEGACY: MINIMALISM BLUE
---
Appearance: A modern look with essential widgets available, which one prefers to check on or use frequently. It portrays elements in an analyzed manner across the home screen and comes with an integrated wallpaper.
Features: It is among those skins with the most number of widgets. It displays various information, including battery, CPU usage, date and Time, Wi-Fi, and more. There are even a lock desktop button and volume sliders in the mix.
Link: DOWNLOAD WIN10 WIDGETS
---
Appearance: This skin focuses more on the wallpapers-widgets combination rather than filling up any wallpaper with a bunch of elements. The top part, mostly toward the left, is completely dedicated to the modules of widgets, and the rest of the space is the emphasis where the wallpaper is highlighted.
Features: The skin gives you 8 modules to pick the elements you want to keep on the front. You are free to adjust the height, turn on or off blur, select font, and do much more with easy to use settings menu.
Link: DOWNLOAD ANOTHER TOP BAR
---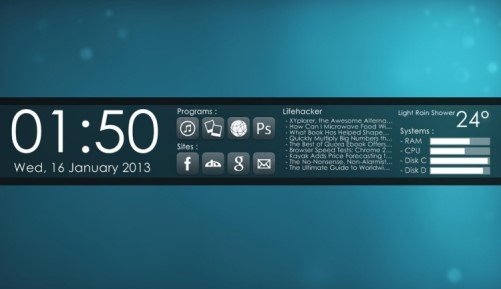 Appearance: A horizontal stripe across the screen is all about this skin. Also, you can manually adjust the width of how much highlighted you want the elements to be.
Features: This skin presents the following information- Time & Date, Shortcuts to frequently access programs and websites, Subscribed RSS feeds, and Current location temperature.
Link: DOWNLOAD BEFORE DAWN
---
Appearance: The appearance is as clean and plain as the actual glass itself. You can customize the looks as per you want, but the features are limited yet among the most essential.
Features: First of all, you will get to display all the Windows applications that your PC runs. Other elements include the display of recycle bin, control panel, download folder at the top and right/left side, and a media player right at the center.
Link: DOWNLOAD GLASS
---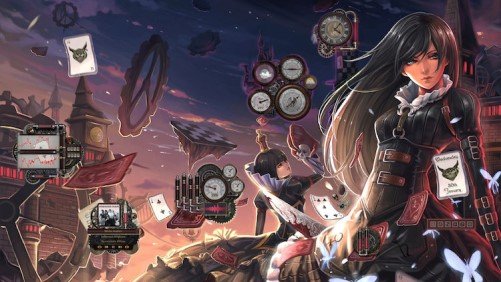 Appearance: The coolest of skins out there for the creative fans. Integrated with dozens of props, describing verbally only takes away from the feel.
Features: This reworked skin packs a dozen features, which include an analog clock, network activity, volume control, weather information, uTorrent tracker, RSS, music player, and much more.
Link: DOWNLOAD ALICE (REWORKED)
---
We hope you liked the list of the best Rainmeter skins (2020). Comment down which one you downloaded and decided to use. Reach out to us if you face any trouble installing.
Rest assured, stay tuned for related content and more updates. Also, share this article with all those who would like to personalize their PC.