The long-running and massively popular Battlefield series returns this year with Battlefield 2042.
The game developed by DICE has garnered a lot of hype around it and many players cannot wait for its official release, which is set for  22nd October 2021.
Battlefield 2042 will consist of three main game modes, all-out warfare, Battlefield Portal, and Hazard Zone
All-out warfare consists of two game modes within it, conquest and breakthrough.

Conquest consists of a vast map supporting 128 players where the action is divided between sectors.
Breakthrough is a team vs team between attackers and defenders who battle over control of large sectors, each captured sector provides a strategic advantage to the team to attack forward or defend against an attack.

Battlefield Portal allows the community to build missions and "experiences" using their builder available. It allows you to re-create your version of whichever scene or battle you wish from the battlefield franchise.
There hasn't been much information provided regarding the Hazard Zone game mode, however, you can sign up for their newsletter here and find out when they release any information regarding it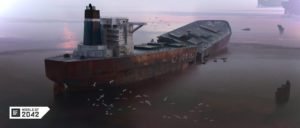 Battlefield 2042 seasons
The FAQ section on their website provides information regarding their new approach towards live service plans, within their answer they stated how the world will expand and the fiction will progress as the seasons do.
Every season will be launched with new content, free battle passes and paid battle passes will also be included.
They have stated that during the first year the team will deliver 4 seasons in total, which includes 4 battle passes, 4 new specialists, and fresh content to keep players engaged.
Each season will last 3 months and more information regarding the first season will be provided before launch.
Battlefield 2042 season 2
Battlefield's release date is inching closer as it is planned to launch on the 22nd of October 2021, though it is not clear as to when the first season will begin, we can expect it to start sometime during October itself.
If season 1 begins in October then Battlefield 2042 season 2 should have an expected release of sometime in mid-January 2022 since each season is said to last 3 months.