The release of the upcoming installment in the Battlefield series, Battlefield 2042, is just around the corner. Just like any other game, this game is also available to pre-order and also to play via early access. So, if you are also looking for a way to play early access to Battlefield 2042 on PC, PlayStation, or Xbox, just keep reading this article to find out away.
Battlefield 2042 is the seventeenth installment in the Battlefield series being continuously developed by DICE and is all set to get published by Electronic Arts on November 19, 2021. What makes this game so special in the Battlefield community is its multiplayer-only focused gameplay. This game is the first of its kind and follows the traditional four Battlefield specialists (Assault, Engineer, Medic, and Recon) to choose from. Each specialist has their own unique skills and gadgets to conquer the battle. Coming back to the topic, here is everything you need to know about playing early access to Battlefield 2042 open beta on PC, Xbox, and PlayStation.
Battlefield 2042 Early Access Open Beta
If you will visit the official website of Battlefield 2042, you can easily see the option to play the early access of the Open Beta version of this game. The Open Beta of this game will be out on October 6, 2021, and will be ending on October 9, 2021. The Early Access of this game will be out on 6-7 October and on 8-9 October Open Beta will be releasing for all players. The Open Beta Early Access is only for those players who have pre-ordered this game or the players who are currently members of EA Play. So, make sure to fulfill these requirements before looking for an Open Beta Early Access.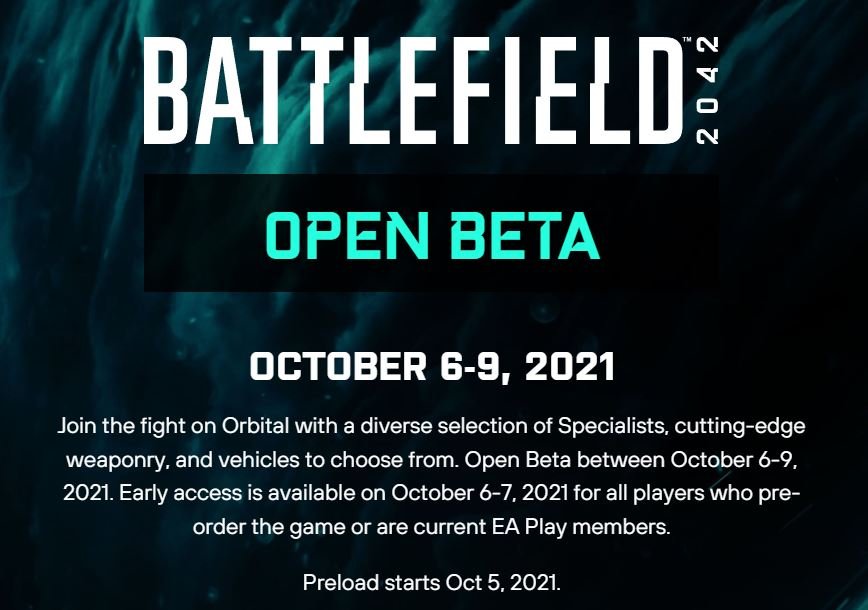 However, if you feel like you will not be lucky enough to get Early Access to this game, you can also go for some third-party stores that promise that you will surely get it. But, DigiStatement does not support such stores. 
Read More:
Enjoy Gaming!!