Since the update on Friday, July 3, it is now possible to swim and dive in Animal Crossing: New Horizons! But that's not all, since you can also catch sea creatures, and some of them are useful to a certain … Pascal! He is a special character from the game, found in the sea, and who will regularly offer DIY plans.
Pascal and the scallops in Animal Crossing: New Horizons
If you have seen the trailer for the new update of Animal Crossing, you have surely seen a character who will make his return to the game: it is Pascal the otter! This character is in the sea that you will find it, and to unlock it, it is quite long.
https://twitter.com/RedTRaccoon/status/1279387247616409602
Pascal obviously has a specific utility in this new update. If you started your game, you may have noticed that it is now possible to dive, which allows you to catch various sea creatures. One of these creatures is a scallop, and this new character is very interested.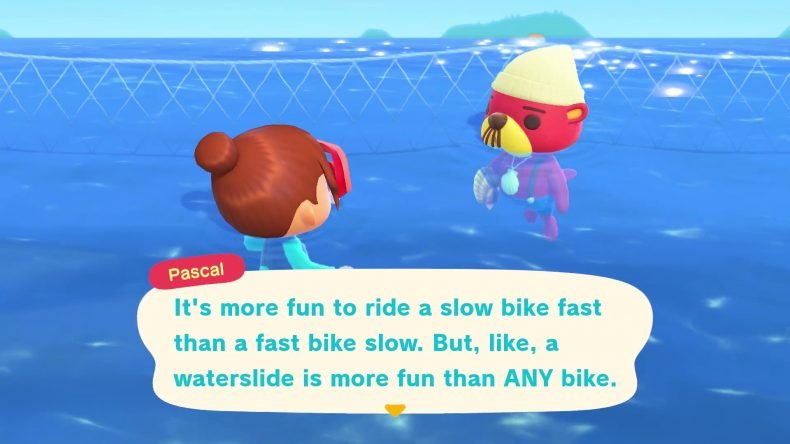 You will, therefore, find Pascal in the sea, and to unlock it, it is quite long. Indeed, for him to come to see you, you will have to collect scallops twice in the sea, while diving. This is the second time that this character will appear!
If you come across him, he will then offer to exchange these scallops for DIY plans from the Mermaid collection, pearls, or even Mermaid clothes. These exchanges can only be done once a day!
All the Mermaid Recipes from Pascal
Bed
Bed can be crafted using the following materials:
Pear 2
2 Giant Clam
5 Sand Dollar
Chair
Chair can be crafted using the following materials:
1 Pearl
1 Giant Clam
2 Sand Dollar
Closet
Closet can be crafted using the following materials:
2 Pearl
1 Giant Clam
2 Coral
5 Sand Dollar
Dresser
Dresser can be crafted using the following materials:
2 Pearl
1 Giant Clam
3 Coral
Flooring
Flooring can be crafted using the following materials:
2 Pearl
5 Sand Dollar
5 Stone
Lamp
Lamp can be crafted using the following materials:
1 Pearl
3 Conch
2 Coral
2 Iron Nugget
Rug
Rug can be crafted using the following materials:
1 Pearl
3 Sand Dollar
Screen
Screen can be crafted using the following materials:
2 Pearl
3 Giant Clam
5 Sand Dollar
Shelf
Shelf can be crafted using the following materials:
Pearl 1
1 Giant Clam
4 Coral
Sofa
Sofa can be crafted using the following materials:
Table
Table can be crafted using the following materials:
Vanity
Vanity can be crafted using the following materials:
1 Pearl
1 Giant Clam
2 Coral
2 Iron Nugget
Wall
Wall can be crafted using the following materials:
2 Pearl
2 Sea Snail
2 Sand Dollar
2 Coral
2 Giant Clam
Wall Clock
Wall Clock can be crafted using the following materials:
1 Pearl
3 Sea Snail
2 Coral
5 Sand Dollar