What we love about Animal Crossing is the inclusivity for all ages. You look anywhere and you can find a hobby that will entice every age group and social circle. Love partying and socializing? Visit neighbour islands and enjoy with them. Love gambling? Have your hand at the turnip stalk market and prepare to make unprecedented profits or lose it all trying. The game also dishes out events for minor days and holidays that usually go overlooked in the dense world but not Tom Nook. So we have from 1st to 5th July a small celebration of International Children's Day.
The last month was flooded with events in Animal Crossing and the Wedding event just hit the decks but that doesn't mean there is nothing going on the sides. In the celebration of International Children's day, the game is providing special items and decorations available for a limited amount of time.
Head to Nook's Cranny for International Children's Day.
There you will find 3 new items laid down for you by Tom Nook. It will remind you of the sweet days of childhood in this quarantine period.
New items for international childrens day! #AnimalCrossing #ACNH #NintendoSwitch pic.twitter.com/HqnHVj602C

— ⭐Kabooshed⭐ (@_Kabooshed_) June 1, 2020
So you have a handmade cape, a striped beauty in white and pink. You can don and become the queen/king of AYAYA.
Second, you have the Handmade Crown to become the assorted prince you always fantasized about during childhood.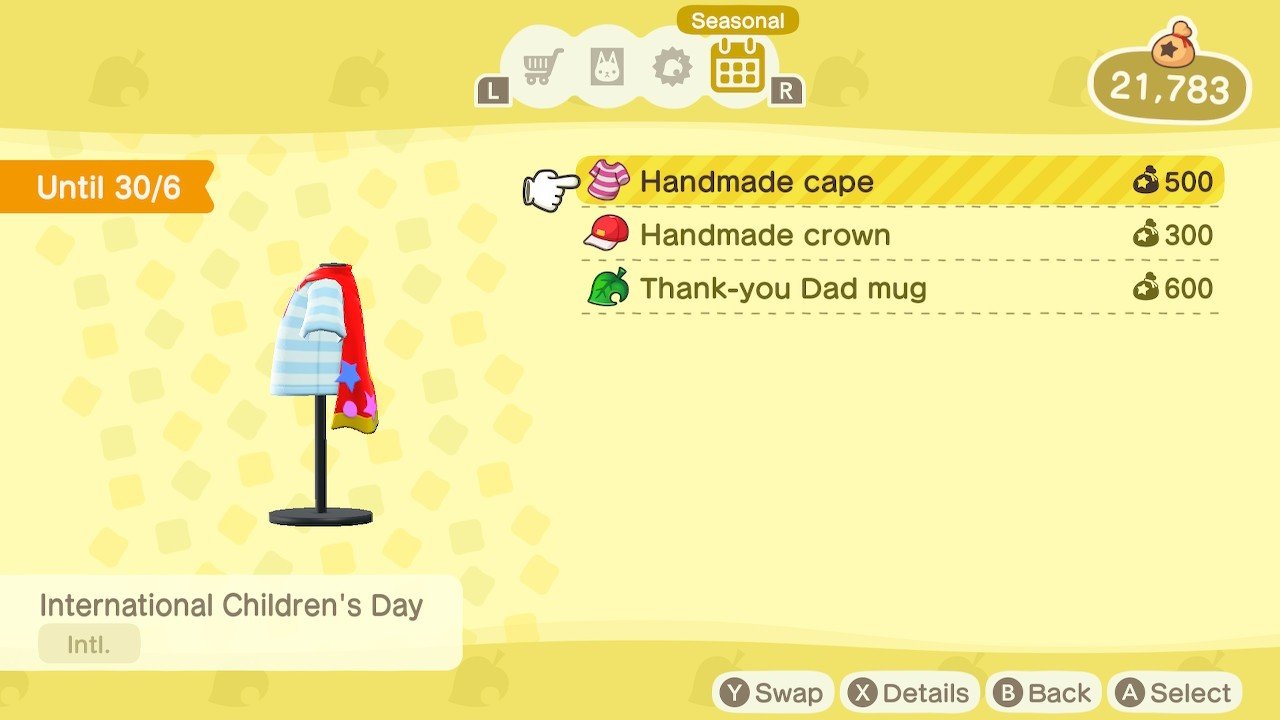 Last but not the least, a thank you dad mug appreciating our parents work and sending a message to all the players to cherish your family.
To grab these items head to the Nook's Cranny, these items are pretty ergonomic and won't make a hole in your pockets. Can't wait for other new events Animal Crossing has in store for us. Stay tuned for the latest information.